The events industry is in uncharted territory. With many conferences having to pivot to the virtual environment in the wake of the COVID-19 pandemic, what does the future hold for international conferences, and how will the global events industry — worth $1.5 trillion* — recover?
The good news is that recovery is possible. While it's too soon to tell if the events industry will return to its trillion-dollar value, or how long it would take to recover and grow beyond it, virtual conferences and events are now a viable alternative to their on-site counterparts and are here to stay.
That said, we're all craving for part of the in-person event experience. Physical or "offline" events will definitely come back, but they will most likely cater to hybrid audiences. This opens up more opportunities for attendees worldwide — the barriers are gone — and for event organisers, more ways to deliver value.
Managing a virtual conference
The question for event professionals becomes: "How can we offer world-class online events and virtual conferences?" — it's not a question of "If-". So, what are the practicalities of running a smooth virtual conference?
From promotion to execution and feedback, you'll be reliant on digital platforms. Whether promoting on social media networks or running the event itself. Platforms like Intrado, Hopin, SpotMe or ON24 are household names and everyone will be familiar with them. Most of those virtual conference platforms offer conference organisers the following features:
Interactive and engaging audience experience
Main tracks and break-out sessions
Networking areas and 1:1 chat and video possibilities
Analytics
Easy-to-use tools for producers and presenters
Customisable environments
The ubiquity of online platforms makes it easy for virtual conference attendees to navigate, and the professional features ensure organisers offer immersive, valuable experiences.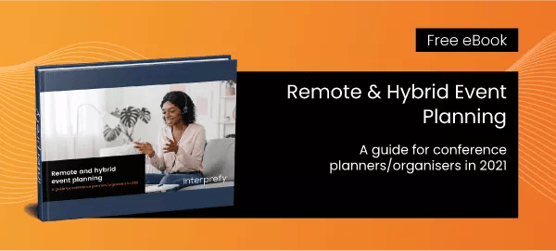 However, virtual conferences do have unique challenges. For instance, with attendance now location-independent, organisers may need to offer translation services in more languages if they're to remain truly inclusive. Thankfully, with the help of Remote Simultaneous Interpretation (RSI), this can be easier than it seems.
Taking thousands of virtual events online since the Covid-19 pandemic, Interprefy's RSI technology has become the preferred language interpreting solution for multilingual, virtual conferences and events - from virtual tech summits to medical congresses. Because Interprefy partners with leading platform providers for in-app interpreting and works alongside any chosen platform. It's scalable, flexible and reliable, so whether you're hosting 200 or 10,000 participants, simultaneous translation services will be one less thing to worry about.
By adding Interprefy's RSI services to your virtual conference you can:
Remove logistical complexity
The cloud-based platform is easy to use, requires no configuration and can be scaled to service events of any size. Interprefy's project team makes sure everything runs smoothly in the back.
Deliver content in more languages
Interprefy takes care of the technology, delivers RSI and, finds the best conference interpreters with knowledge of your subject area to deliver content to your audiences.
Stay on your preferred events platform
Interprefy partners with leading virtual event platforms to integrate an interpretation language selector within your chosen event platform.
But talking about benefits is one thing. Let's demonstrate how easy including RSI can be. Here's an overview of how to set up Interprefy for your next virtual conference.
How to set up Interprefy for virtual and hybrid conferences
Interprefy provides its own video conferencing platform with Connect and Connect Pro. Providing state-of-the art video conferencing features — such as chats, active host functionality, polling and voting (in Pro), Interprefy goes one step further by offering built-in RSI capabilities.
Alternatively, users can benefit from the flexibility of adding RSI to their chosen conferencing and events platform using Interprefy Select. The software can connect to your conferencing platform in one of two ways:
Through a widget or language selector pop-up window
If, like ON24, Intrado, Hopin or SpotMe, the platform is an Interprefy platform partner, a widget will be included within the event interface. Participants can then select a language and mute the audio source.
Via the Interprefy mobile app
Remote or on-site participants simply download the Interprefy app from the app store, enter the event token and listen to interpreting on their smartphone while following the video content on their desktop.
And getting this functionality is easy! Here's how to set it up, step by step:
Interprefy Select
Contact us for a quote on your requested languages and services.
Your assigned project manager will find the best interpreters for your languages and subject area. Alternatively, you're welcome to bring your trusted interpreters, and we'll teach them the ins and outs of our platform.
We will help with the technical integration, provide user guides and create event tokens.
On the day of the event itself, our technical remote support team will also monitor the interpretation channels.
If using the app, users simply download the app, enter the code and select their language.
Interprefy Connect or Connect Pro
Once your conference interpretation services have been booked with Interprefy, we'll provide you with the login details for each user group.
Users attend webinars/conference sessions on either the browser-based platform or the mobile app.
Managed authentication means organisers can upload lists of emails or phone numbers ahead of time. Only listed members can log into the event and will receive the confirmation code via sms text message or email to log in.
It's as simple as that! Rest assured, when on-site events start making their way back into our calendars, our expert team will share how easy it is to sign up and set-up to use our on-site RSI services too and combine on-site AV equipment with our cloud-based platform: Interprefy Events and Events Pro.
Deliver a successful virtual conference of any size
Transitioning to virtual events takes care and partners you can trust. And that's where we can help. Our platform, Interprefy, is an RSI solution that is driven by support from start to finish, with a dedicated project team supporting you along the way, from preparation to execution.
As a best-in-class service, we prize high quality and innovation — and make sure the interpreting is reliable and accessible from anywhere in the world via a network of cloud-based redundant servers. Our patented RSI technology also allows interpreters to work remotely, making it possible to source the best interpreters worldwide for any language combination and subject expertise.
To round it off, we've built in advanced security features that safeguard organisers and attendees from data breaches without compromising on the quality of RSI transmission. We use the industry's most advanced security standards, including two-factor authentication (2FA) (in Connect and Connect Pro), enterprise-grade encryption for audio and video streams, and separate online sessions.
Getting started
Interested in finding out more? Get in touch and book a 15-minute call to talk about your upcoming event. We'll give you a tour of Interprefy and be happy to answer any questions.