You're hosting a business meeting, town hall, or webinar on Zoom, but not everyone joining speaks the same language. Know the feeling? That's where live translation solutions like remote simultaneous interpretation, captions, and subtitles can make the impossible possible.
Zoom offers some built-in language capability but, as many have found out, not the serious capability needed for serious events. Interprefy offers the same high-function multi-lingual support for Zoom as it does for other meeting and conferencing platforms.
Language interpretation, Zoom integration, and managed interpretation services ensure a seamless experience for all parties, to even the most complex set-ups, like for example The White House Summit on Climate Change.
But before we jump ahead of ourselves, let's look at the Zoom translation options available today.
---
In this article
---
Live translation for Zoom
Hosts of multilingual Zoom meetings and webinars have essentially two types of translation technology available to them:
Language interpretation: With this approach, simultaneous interpreters will be connected to your meeting and will relay the original speech in another language, in real-time. Meeting participants simply select their preferred language.
Live-translated captioning / subtitling: As with television, meeting participants are provided with captions or subtitles so they can read what's being said. These captions are in the user's selected language however and are generated automatically through Artificial Intelligence technology. They appear on screen in real time.
Language interpretation for Zoom
Zoom's interpretation feature allows you to connect interpreters to your meetings. Meeting hosts have to activate the interpretation feature when scheduling the meeting and select the audio language channels they want to make available during the meeting.
Once scheduled, meeting hosts will need to find the right interpreters and invite them to the meeting in their designated roles.
How does the interpretation feature in Zoom work?
At the time of writing this article, Zoom allows for the setting up of a default list of 9 languages, as well as setting up to 25 additional custom languages. Interpreters will be provided with an interpreter meeting link to join the session.
How can I activate the language interpretation feature in Zoom?
In order to use the language interpretation feature in Zoom, you will require a Zoom Pro plan or higher. You can activate the language interpretation feature in your Zoom account. You will have to log in to the Zoom web portal, and go to 'advanced settings'. After that, it's quite straightforward:
Click settings and go to the Interpretation section;
Go to manage language interpretation and click edit;
Add the interpreter(s) of your choice and finally, click save.
How can users access interpretation in Zoom?
Once the interpretation in your required languages is set up, you will see an audio channel for each language in your Zoom meeting. Your meeting participants can find the language channels in the bottom navigation bar and simply select their preferred audio language.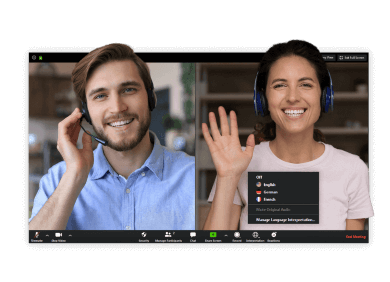 Limitations of the Zoom interpretation feature
While Zoom's built-in interpretation feature is a popular choice for small, simple meetings, it comes with a few challenges for both the interpreter and the meeting organiser.
Limitations for interpreters
Initially, Zoom wasn't built for interpretation and lacks the specialized tools that professional interpreters require.
As with any resource, the difference a sub-optimal working environment makes is that the specialist, professional interpreters, who represent a significant cost, will not deliver as good a service as they should. A lot of the missing features relate to interpreters working together:
With Zoom's in-built feature, interpreters cannot hear their booth partner's rendition. This means that they cannot take over interpretation, a feature which is essential for longer events.
Zoom is missing any interpreter handover capability, a key part of the ability to cope with events longer than a few minutes as mentioned above.
With Zoom, no relay interpretation is possible. Relay allows one interpreter to reinterpret from a common language like English. It is a fundamental part of all more complex events where multiple languages are required.
Interpretation in break-out rooms is not available
Zoom lacks fine operational details like being easily able to chat with other interpreters, functions that seem minor but make great differences to the accuracy of the final interpretation.
Limitations for meeting organisers
The success of multilingual Zoom meetings, and bigger events boils down to three factors: Having the right interpreters available; using reliable and specialized tech; and having the right interpretation partner who can assist with setting up your interpretation, onboard the interpreters, and deliver both general and language-specific technical support throughout the meeting.
Why do I need an interpretation partner for my multilingual Zoom meetings?
A professional end-to-end remote interpretation provider like Interprefy can help by setting you up for success and making your Zoom event a seamless and rewarding experience for all involved.
Interprefy can:
Integrate our professional RSI platform with Zoom;
Provide a best-in-class interpretation soft console for interpreters;
Source the best-fit interpreters for your assignment;
Provide dedicated project and technical support;
Connect your Zoom meeting even to the most complex, hybrid setups;
Provide additional services such as recording, transcripts, or live captioning.
With Interprefy for Zoom, both meeting participants and interpreters can enjoy a range of benefits, and focus solely on the content of their Zoom meeting or webinar, while Interprefy manages the rest.
The Interprefy real-time interpretation solution can be integrated with Zoom to stream the video and audio from the Zoom meeting to our interpreter soft console and feed the interpreters' translated rendition of the speech back into Zoom into the respective interpretation audio channels.
Watch how Interprefy language interpretation for Zoom works:
Finding Zoom interpreters and translators for your meetings
Working with Interprefy, you can tap into a global pool of interpreting talent. Interprefy partners with leading Language Service Providers across the globe to source, train and onboard thousands of vetted pro-interpreters. That means you can find the best fit interpreters for even the rarest language combinations and with the expertise in your subject area.
---
Translated and multi-language captioning for Zoom
For Zoom meetings without language interpretation, meeting organisers can choose to activate closed captioning in multiple languages, providing participants with live transcription of what's being said. Captions can be a game changer, providing a range of benefits, from better accessibility, to better knowledge retention.
How the Zoom captioning feature works
Zoom meeting hosts can enable automatic live transcription / captioning for a meeting, or assign participants to manually type captions (CART). If a participant joins the meeting and closed captioning is available for that meeting, the captions can be viewed on the display.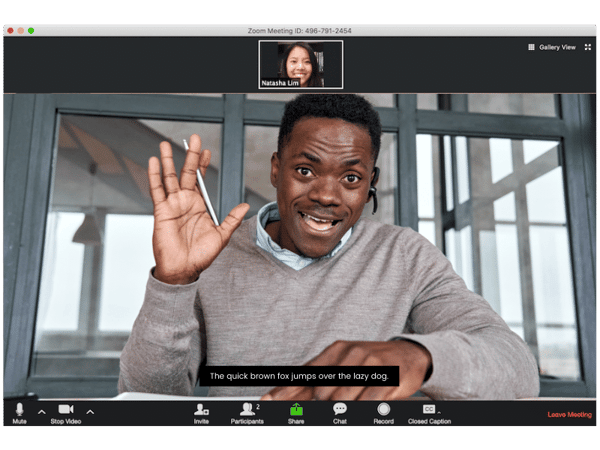 Does Zoom have automated captions?
Yes, In October 2021 Zoom made automated captions, also known as live transcription, a feature available to all Zoom accounts.
Zoom meeting hosts have two captioning options available:
Manual captions: Assign a meeting participant as a captioner, who will transcribe the speech live.
Automated captions (live transcription): Uses the meeting audio to automatically create captions.
If you are required to use speech-to-text support for any compliance or accessibility needs in your meetings and webinars, Zoom themselves recommend using an external third-party service able to guarantee specific accuracy.
How to enable closed captioning in Zoom
In October 2021, Zoom has made automated captions available to all users, even on free plans. The feature was designed to help increase accessibility for the deaf and hard-of-hearing, providing a live transcription of what's being said.
You can activate captioning for Zoom in the Zoom web portal:
Sign in to the Zoom web portal.
In the navigation menu, click Room Management then Zoom Rooms.
Click Edit next to the Zoom Room you want to enable closed captioning for.
Click the Meeting tab.
Under In Meeting (Advanced), click the Manual captions or Automated captions (live transcription) toggle to enable or disable them.
Manual captions allow the meeting host to assign a participant to type the closed captions.
How to start captioning in a Zoom meeting
When activated by the meeting host, participants can click on Show Captions (CC).
Automated captions will begin generating and appearing in the meeting window.
Which automatic captioning languages are available in Zoom?
Zoom can automatically generate live captions for speech in the following languages: French, German, Spanish, Portuguese, Italian, Chinese (Simplified)(Beta), Russian, Japanese (Beta), Korean (Beta), Dutch, and Ukrainian.
How accurate are Zoom captions?
A recent study reports 90-95% captions accuracy. The problem with captions accuracy measurement however is that it often does not take into consideration the seriousness of mistakes. Zoom does not offer a dictionary tool, or any preparation capability to pre-populate the system with names, acronyms, or context-specific terms that you need to be sure will be accurately transcribed.
---
Related article
How good are live captions in Zoom and Teams?
---
Does Zoom have translated captions available?
Yes, Zoom-translated captions allow users to have the speech automatically real-time translated and access captions in another language. For example, if a meeting participant is speaking in English, other participants can view Italian, German, or Japanese captions.

Which caption languages are available during a meeting or webinar are determined by the host in the web settings before the live session, but participants can enable captions and switch languages themselves.
How to enable translated captions in Zoom
To enable or disable translated captions for all users in the account, the meeting host will require to follow these steps:


Sign in to the Zoom web portal as an admin with the privilege to edit account settings.
In the navigation menu, click Account Management then Account Settings.
Click the Meeting tab.
Under In Meeting (Advanced), click the Translated captions toggle to enable or disable it.
If a verification dialogue displays, click Enable or Disable to verify the change.
(Optional) Click Edit translation languages to select language pairs you want available in the meeting.
(Optional) To prevent all users in your account from changing this setting, click the lock icon, and then click Lock to confirm the setting.
Which translated captions languages are available in Zoom?
Currently, Zoom supports automatic translation of captions from English into these 12 languages: Chinese Mandarin – Simplified (beta), Dutch, English, French, German, Italian, Japanese (beta), Korean (beta), Portuguese, Russian, Spanish, and Ukrainian.
While only translation from English into these languages is currently available, Zoom has announced it will introduce more language pairs over time.
The limitations of Zoom captions
While a great first step in helping Zoom meeting organisers overcome accessibility and language barriers, Zoom's automatic captioning comes with a few limitations:
Limited language support: Zoom currently only offers captioning in 12 languages. If you are lucky, this will be enough. If you are unlucky or if a last-minute change to your meeting requires another less-common language, you may be in trouble.
Captioning accuracy: Zoom doesn't offer a preparation tool to ensure the accuracy of names, acronyms, brands and so on accurately. There is a rule of thumb in translation that is the more obscure a term, the more important it will be. Doing a new product launch and having the captioning system mess the product's name up each time it is said will not look good.
How to take Zoom captioning to the next level with Interprefy
With Interprefy's expanded captioning language support including dictionaries that extend into 40+ languages. Using Interprefy, Zoom sessions can now be streamed with real-time captions in additional languages, as well as translations to multiple languages.
Pre-event set-up to prepare the system for all critical terminology;
More captioning languages are available;
Dedicated set-up and tech support;
Interprefy Captions use the best translation engines for each language combination;
Additional language support: Flexibly combine interpreting with automatic and/or translated captions and record your sessions for post-event usage.
Using Interprefy-powered captions and subtitles next time you host a Zoom event could mean the difference between merely having an audience and having a highly engaged audience.
Summary: How to seamlessly bring best-in-class live translation to Zoom
If you're looking to bridge the language gap in your Zoom meetings or webinars, Interprefy can provide you with both leading-edge technology and hands-on support designed specifically for successful multi-lingual meetings. This will empower you to cater to the most complex configurations and also the simplest setups with the most demanding circumstances, like last-minute changes, rare languages and nervous speakers.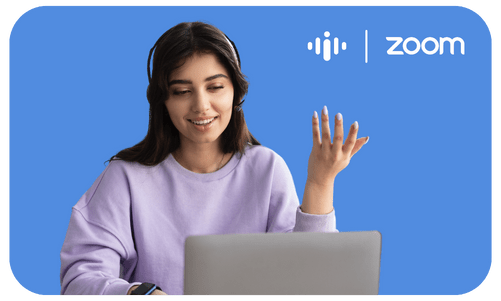 Got questions?
Drop us a line and we'll reach out to help you meet your multilingual Zoom meetings needs.