For nearly two years now event and meeting organisers worldwide have been trying out new and creative ways to take their gatherings online and embraced change and adaptation like never before.
No longer did event planners worry about the layout of their floorplan, but shifted their attention to how to engage their audience at the end of a virtual session.
Remote Simultaneous interpreting, or "RSI", soon became standard practice in international or multi-national online conferencing, popular for its ability to help drive inclusivity and cross-language understanding by connecting audiences in their own language.
RSI technology providers like Interprefy made sure their technology was integrated with the meeting and streaming software people met on, so remote interpreting could become available for any webinar, meeting, or conference that attracted a diverse audience.
But, is RSI a solution for virtual and hybrid events only?
Absolutely not. The Inteprefy RSI platform, for example, has been in use at thousands of in-person events since its inception in 2015, aiming to make conference interpreting a service available for all, by taking interpretation to the cloud.
Ever since, event planners from organisations such as Facebook, MCI, UEFA, or Domino's adopted RSI technology as a powerful and efficient way to connect people in their own language. For the in-person conferences that did take place during the pandemic, AV companies embraced RSI to make interpretation setups more resilient and scalable.
Conference interpreters no longer needed to be on site but could work from anywhere in the world. Traditional modes of delivering conference interpreting delivery relied on full-day availability of interpreters, interpreter booth floor space, cumbersome hardware, and big-spending pockets. RSI proved to be a powerful alternative that helped remove layers of admin and cost, and ultimately made simultaneous interpretation a service no longer exclusive to large conferences and institutions.
With the pandemic forcing event organisers to take their gatherings online, RSI technology was able to quickly adapt and help take interpreting to the cloud, ensuring global conferencing could continue.
After two years of successfully supporting international virtual and hybrid conferencing, remote interpreting technology has erased all doubts of it being a resilient, secure, and powerful way of connecting people across cultures, countries, and communities.
As we're slowly getting back on site, RSI presents an opportunity to modernize traditional on-site interpreting.
So let's look into detail at how RSI can support on-site events.
How can remote simultaneous interpreting support on-site events?
RSI technology provides organisers of in-person events with a streamlined solution to deliver their attendees with a stunning live interpretation experience. RSI platforms like Interprefy provide dedicated tool kits for AV technicians, conference interpreters, speakers, and audiences.
AV technicians - can connect audio-visual equipment with Interprefy's cloud-based platform and utilize Interprefy's audio routing panel, moderator interface, and more to keep a full overview of all channels.
Conference interpreters - can work from anywhere in the world through a sophisticated interpreting soft console, where they receive audio and video from the venue with near-zero delay. Hybrid scenarios are also supported, where some interpreters work from interpreter booths on-site and some interpreters are connected remotely.
Attendees at the venue - can simply download the Interprefy app, log into the session, plug in their headphones and select their preferred audio language. Alternatively, event organisers can opt to hand out radio receivers and headsets to in-person attendees and stream simultaneous interpretation from the cloud to the respective channels.
Off-site attendees - can also be connected, when the event is being streamed to attendees joining from their offices or homes. Live language interpretation would then be simply made accessible on the streaming or meeting platform of choice or through a separate application.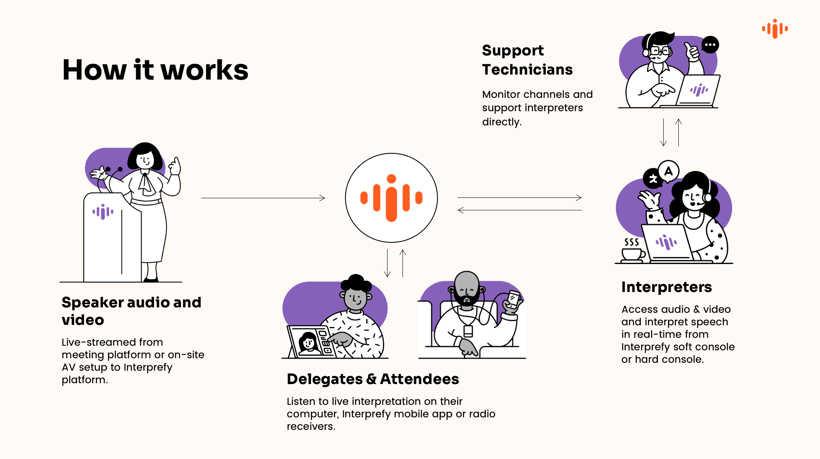 Limitations of traditional interpretation setups
Traditional methods of delivering simultaneous interpreting haven't changed much since 1945, leading to a number of limitations, most notably:
Cost - from travel and accommodation costs for interpreters to renting interpreter booths and radio receivers for listeners.
Availability of interpreters - Because interpreters needed to travel to the event venue, the pool of available interpreters was limited.
Attainability - Due to the complexity and cost associated, this used to be a service only available to governments, large NGOs, and large multinationals.
Floor space & scalability - Event venues only have so much space that can be used for interpretation booths, ultimately limiting the maximum number of languages.
Technical complexity - From AV and conferencing systems, booths, hard consoles, and radio receivers - setting up an on-site interpretation installation was far from easy.
Event carbon footprint - Travel, lodging, food & beverage, and energy are impacting event carbon footprints negatively.
The benefits of remote interpreting for in-person events
Remote Simultaneous Interpretation has managed to successfully solve all of the above issues by taking interpretation into the cloud.

RSI platforms enable easily accessible multilingual events, both online and offline. At the same time, RSI increases flexibility and scalability by enabling entirely virtual or hybrid setups, with some interpreters working on-site from booths and remotely at the same time.

RSI brings many advantages for multilingual events and meetings:
Scalability & flexibility - RSI can be scaled to accommodate thousands of listeners, unlimited language requirements, and multiple access points for on-site and remote interpreters, in-person attendees, and virtual audiences alike.
Cutting cost - From renting booths and hardware equipment to travel and accommodation - RSI can help reduce layers of the cost associated with conference interpreting.
A larger pool of available interpreters - Because on-site presence is no longer required, the best language talent can be sourced, even at short notice.
Reducing admin - RSI is easy to set up and integrate with, and RSI technology providers like Interprefy provide comprehensive project and tech support throughout.
Reducing carbon emissions - Eliminating travel requirements and reducing hardware requirements can support event organisers in their efforts to reduce their event's carbon footprint.
Hybrid-compatible - Cloud-based RSI technology like Interprefy integrates with leading meeting and event platforms.
ISO-certified security - RSI providers like Interprefy follow ISO 27001 information security management standards.
Added value services - Through RSI technology, live-translated captions, as well as event recordings for post-event usage, can be provided.
Better insights - Live statistics of interpretation usage can be made available by the RSI provider.
Dedicated event support - Remote support technicians can support interpreters and event organizers to ensure a flawless setup and seamless experience.
In summary, RSI presents a huge opportunity to modernize the approach in which event organisers deliver simultaneous interpretation - all while making the setups more scalable, cost-efficient, and eco-friendly.