Overview
The congress, which was spread over four days, saw more than 3,000 attendees. Speakers presented in English, with Interprefy providing seven languages to audience members, who listened to their chosen language on high-quality audio streaming through their smart devices.
There was also a panel discussion where panellists and the audience listened to Mandarin-English interpretation, with radio headsets used in combination with smartphones. Working closely with the events agency, MCI Australia, Interprefy provided onsite support prior to, and for the duration of, the event.
It was a great, easy service.
- Meg Watt, Project Manager, MCI Australia
The Challenge
A world conference with multiple talks in 8 different languages
The 20th World Congress of Accountants (WCOA) is a momentous event for the global accountancy profession. The international accounting conference represents a chance to engage with visionaries and leaders and to bring their own expertise to the world stage. It only occurs every four years and brings together more than 6,000 delegates from over 130 countries to hear world-class speakers and leaders across the finance and business community.
The project management team had a highly complex event to organize, with numerous talks, discussions and presentations. To ensure attendees would benefit and to encourage engagement, careful planning was considered. A key consideration for the events team was to engender mutual learning and engagement, but delegates were expected to come from 130 countries.
The provision of interpreting was required in eight languages, meaning the events team at MCI Australia would have to organize flights, accommodation and visas for 16 interpreters. And the team also found it difficult to identify conference-level interpreters with the right language combinations regionally. The prospect of having eight interpreting booths was unattractive as the team needed to use the floor space as intelligently as possible with such a large number of delegates in attendance.
The Approach
A flexible solution using the Interprefy app and radio headsets
Interprefy's Chief Technology Officer visited the venue to establish the exact requirements for this event. Working closely with the project manager, Interprefy came up with a suitable solution.
Congress Rental Network Australia ran the AV for the event. Working closely with Interprefy, the team established a set-up for interpreting to be delivered in eight languages via a combination of the Interprefy app and radio headsets, giving attendees flexibility. Interprefy held extension discussions with MCI Australia to ensure the WiFi network was adequate and secure to run interpreting audio streams across.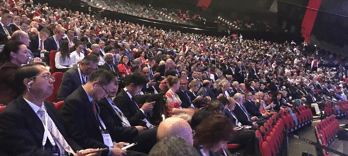 Interprenet, Interprefy's language service provider partner, sourced conference-level interpreters from across the globe, who worked remotely.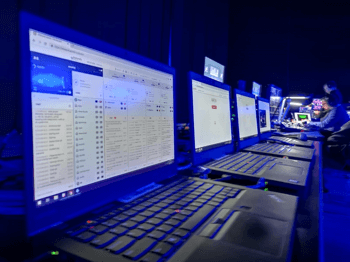 The Outcome
The congress ran smoothly and event attendees provided extremely positive feedback on the ease of use of the Interprefy app, the quality of the audio and the high standard of the interpreters.
The congress organizers saved substantially financially and on administration as the AV system was uncomplicated, interpreters did not need to be flown in and interpreting booths did not need to be hired.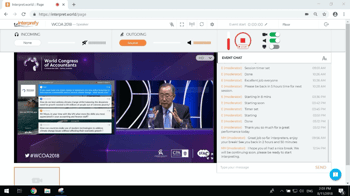 Related Case Studies
Dansk Industri employs remote interpreting for over 250 delegates