In just months, the global landscape has changed dramatically, with almost every sector having to pivot to digital technology. For now, in-person meetings, lectures, events and conferences are off-the-table (or restricted to fewer numbers), leaving companies to rely on virtual meeting and webinar platforms such as GoToWebinar, Microsoft Teams and Zoom to continue operations.
But for all the upheaval that COVID-19 has caused, how has the pandemic affected webinars and video conferencing?
The changing landscape of video conferencing
Virtual events and video conferencing have become part of our daily lives, with webinar and multimedia content platforms reporting a significant usage uptick.
In the past, audiences tended to avoid webinars on Mondays and Fridays. These days, Mondays and Fridays are well-attended.
The number of events held on Fridays and Tuesdays has increased by 222% and 271%, with Monday seeing the biggest increase, with a huge jump of 441%.
While beginning webinars at 11 am is still best practice, the prevailing trend is that webinars are starting earlier in the day and cater to audiences from multiple time zones.
Because we can't come together in person, the webinar format has proven an invaluable way for many sectors to continue productivity.
This can be seen in the educational sector, where live or pre-recorded webinars are being used for students who can't travel to campus. For various business sectors, webinars make it possible to demonstrate products, share insights and knowledge, onboard customers and train employees, as well as hold important meetings.
Many of these meetings involve a multinational contingent, calling for a robust tool that can provide real-time translation for live webinars and accurate captioning for recorded ones. After all, people of different nationalities shouldn't have to put up with glitchy software that makes it difficult to follow and engage during the webinar.
Interprefy — tailored remote simultaneous speech translation for webinars of all sizes
Interprefy has been tailoring solutions around the language needs for webinars for over five years. Our patented RSI technology is cost-effective, rapidly deployable, best-in-class and promises virtually no latency. Combined with our global customer services and support team, you'll be able to focus on making your multilingual webinar as engaging and memorable as possible.
The Interprefy platform:
Removes logistical complexity: Our cloud-based platform is intuitive, requires no configuration and can be scaled to meet the requirements of any online event, be it a webinar or virtual conference.
Delivers content in more languages: Interprefy's platform delivers remote simultaneous interpretation, so conference organisers can shift focus to finding the best conference-level interpreters to deliver content to audiences.
How to set up Interprefy for webinars
Interprefy offers three options for your webinars: Connect, Connect Pro and Select.
The all-in-one webinar choice: Interprefy Connect Pro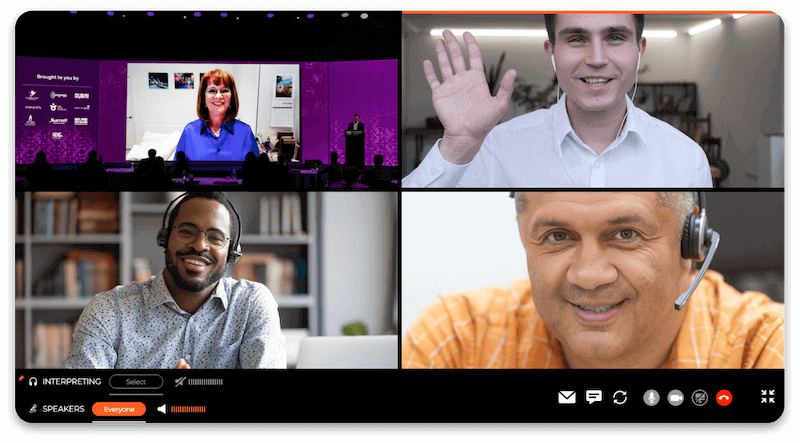 Interprefy Connect Pro offers a range of features to make your webinars an engaging and seamless multilingual experience. The platform features:
Raise-hand feature to allow the host to control floor access
Polling and voting functionality
Virtual timer
Two-factor-authentication with active directory integration can be enabled to ensure full control over who's accessing your webinar
Event chat, moderator chat and private chat feature
Browser-based and mobile app access for participants
Audio-first approach, ensuring the audio quality will not suffer under bad internet connection on participants' side
Crystal-clear, encrypted audio with almost zero latency
Pre-Call Test page for all webinar participants
Live captioning
Webinar recordings
Adding interpretation to GoToWebinar and more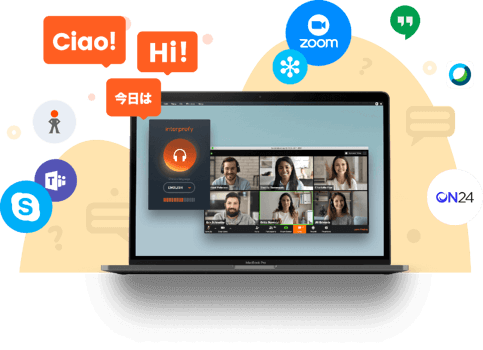 With our Select option, users can choose their own webinar platform, which Interprefy will connect to in one of three ways:
Through a widget or language selector pop-up window
For virtual event platforms that Interprefy partners with - such as Intrado, Hopin, ON24, 6Connect + many more - there is a widget that can be included in the event interface. All a user needs to do is select their language of preference and mute the source audio. Learn more


Via the Interprefy desktop app
Participants download the app onto their Windows or macOS computer, enter an event token code and as soon as the interpreter is speaking in their selected language, the app will auto mute the original audio and stream live interpreting.


Via the Interprefy mobile app
Much like the desktop app, participants simply download the Interprefy app from the app store, enter the event token and listen to interpreting and follow the webinar on their smartphone. Learn more
How these features work in practice
First things first, , event organisers can reach out for a quote on requested languages and services. We will then assign a product manager, who will source interpreters who are eloquent in the required languages and have experience with the event subject matter.
Alternatively, a client could use their own trusted interpreters. If this is the case, Interprefy will assist with teaching the interpreters the ins-and-outs of our platform, as well as creating event tokens and monitoring interpretation channels during the event itself.
For the Interprefy Connect/Connect Pro options, users can attend the webinar on either the browser-based or mobile app platform. With this option, we can provide a deeper level of authentication: only confirmed attendees that have been authenticated will receive the confirmation code to log in to the webinar and receive language translations.
Our products
With Interprefy's cutting-edge RSI products and associated services, event organisers benefit from best-in-class translation so their multinational attendees can follow proceedings and feel comfortable enough to engage.
Interprefy Connect

: Bring together participants from around the world and enable them to listen and engage in their language of choice. Meetings can be broadcast to an even larger audience, allowing you to scale the webinar with ease.

Interprefy Connect Pro

: This solution can support up to 300 speakers (with the host having complete control over who is presenting). Raising hands, two-factor authentication, polling, as well as active directory integration make Interprefy Connect Pro the preferred choice for moderated classroom-style events.
Interprefy Select: Adding real-time language interpreting to webinars on all major web conference and streaming solutions, allowing you to add interpreting to your existing online meetings and webinars with minimal effort, through one of the options above. At any point of the event preparation or execution Interprefy and our team of customer support technicians are ensuring a seamless interpreting experience.
To create memorable webinar events that allow attendees of all nationalities to enjoy and engage in the proceedings, book a 15 minute call with sales today.