It has arguably never been more important to understand the benefits of remote simultaneous interpretation.
A recent blog post published on The Professional Interpreter, by Tony Rosado, highlights a growing problem within the interpreting community. In the globalized world in which we live, travel has become more affordable and borders more easily traversed. What about interpreters? Does a conference organiser apply for a working permit for a professional guest speaker presenting (again a fee) at his/her conference? Does the onsite management of a conference require a permit? This is a grey area and there are no clear answers.
Each nation has different rules when it comes to consulting as a foreigner. In Switzerland, for example, a person from outside the country without a work permit can consult for a maximum of seven days per year.
Remote simultaneous interpretation removes this problem entirely. Because the interpreter does not need to travel to the site of the event, no work permit is required.
Interpreters in such circumstances are working within the legal boundaries of their home country and not in that of the event location.
Increasingly interpreters are recognizing this as one of the major benefits of remote simultaneous interpretation. For those who turn left when boarding a plane, it may seem that borders are becoming easier to cross than in the past. But, as many countries across the world are tightening their borders and making it harder for non-domiciles to obtain work permits. This raises more benefits of remote simultaneous interpretation. For example, no longer do interpreters need to spend so much time unnecessarily on filling visa forms, traveling and waiting around for their event.
Benefits of remote simultaneous interpretation for events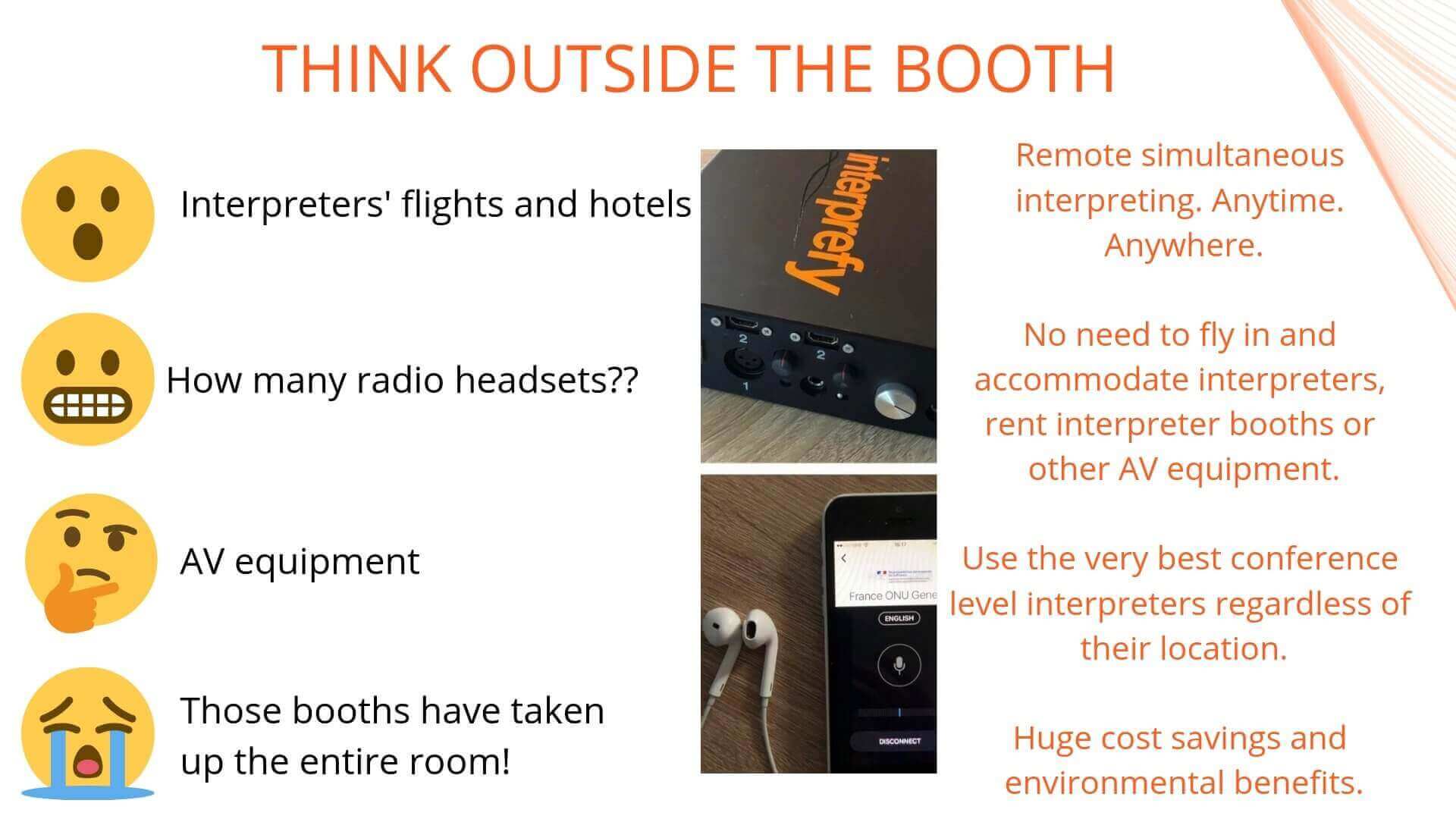 With remote simultaneous interpreting, interpreters will benefit from more work – not only do they have more time disposable to work but, by removing the need to hire AV equipment, booths and spend on travel and accommodation, more organizations will be able to afford interpreting. Basic economics dictates that lower prices equate to higher demand. It's a win-win for everyone!