The appetite for virtual events does not seem to slow down. According to marketwatch.com the year-over-year growth rate for the global virtual events market for 2021 is estimated at 40.37%" by the end of 2025.
And even as in-person events slowly begin to return, offering two entry points - a virtual experience and a on-site experience - is increasingly becoming an added value many event organisers don't want to miss out on. The undisputed, yet largely untapped potential of hybrid events means organisers will continue to look for best-of-breed cloud-based event technology to deliver stunning event experiences to remote attendees beyond the pandemic.
Available live translation technologies for events
Taking their events online offers event organisers an unprecedented opportunity to turn their potential audience pool into an ocean. Events can increase their reach to attract larger and global audiences. Live language translation technologies like Interprefy's remote interpreting and live closed captions platforms can help localize the attendee experience by breaking down language barriers.
Remote (sign) language interpretation:

Cloud-based remote simultaneous interpretation technology allows for pro-interpreters to work from anywhere in the world to translate the presentations during the event in real-time.
Live closed captioning: Providing attendees with "subtitles" as a visual aid to follow the speech in their own language, various captioning technologies are available today: human captioning, automatic speech recognition (ASR) captions, and machine-translated (MT) captions.
How remote interpreting and live translation can be enabled on your chosen event platform
What started out as stand-alone platforms for multi-lingual conferencing in 2014, has evolved into a highly flexible and scalable plug-in solution for the tried-and-tested online conferencing platforms - Remote Simultaneous Interpretation (RSI).
Interprefy continues to pioneer the multilingual MICE world by offering event organisers the flexibility to connect professional conference interpreters to their events via the conferencing platforms they choose and trust.
In 2021 alone, Interprefy has provided remote live interpreting for thousands of events held on over 90 different event platforms.
With Interprefy Select, Interprefy's cloud-based interpreting solution can make remote interpreting from vetted pro-interpreters accessible for events on any third-party web conferencing, streaming or webcasting software in multiple ways:
Direct integration: A simple and powerful audio language selector directly accessible from the meeting platform.
Embedded widget: Interprefy widget with live audio language selector and live captions next to the video stream - directly in the platform.
Separate app: Users access live interpretation alongside the meeting, through the Interprefy mobile app, web app or desktop app.
Event platforms that have already partnered up with Interprefy
A fast-growing number of event platform providers have teamed up with Interprefy to offer their clients an integrated experience, where event attendees can select their audio language directly within the webcast interface.
The unmatched flexibility and scalability of Interprefy's cloud-based RSI technology and its reputation for delivering stunning experiences and white-glove services for The White House, Google, or GlaxoSmithKline, has made Interprefy the preferred interpreting partner for multilingual virtual events across industries and continents.
More than 60 leading event platforms have already partnered up with Interprefy to provide their clients with a resilient and cutting-edge plug-in solution to connect event participants in their preferred language:
Some prominent examples:
---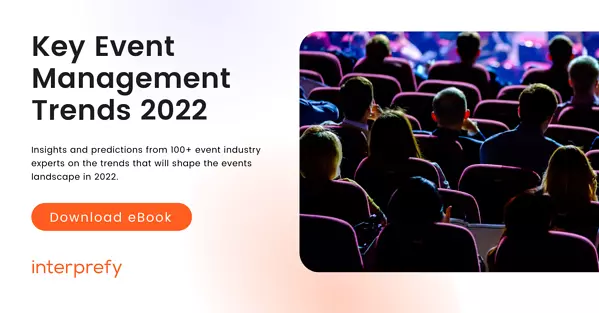 ---
6Connex
6Connex is a leading provider of virtual events for enterprises worldwide. The cloud-based product portfolio includes virtual environments, learning management, and webinars. Designed for marketing, sales, recruitment, training, and HR communications, 6Connex allows clients to engage with their community and transform big ideas into real-world results.
How 6Connex works with Interprefy
Accelevents
Accelevents is an all-in-one events platform that empowers organisations to expand their reach, engage their audience, create an evergreen community, and drive sustainable organizational growth.
How Accelevents works with Interprefy

Adobe Connect
Adobe Connect is a suite of software for remote training, web conferencing, presentation, and desktop sharing. All meeting rooms are organized into 'pods'; with each pod performing a specific role Adobe Connect was formerly part of the Adobe Acrobat family and has changed names several times.
How Adobe Connect works with Interprefy

AirMeet
Airmeet is a platform for virtual summits, meetups & workshops with a social lounge to deliver a rich networking experience.

Bevy
Founded in 2017, Bevy was purpose built to help companies build, grow and scale their global communities. Early customers included Asana, Atlassian, Docker, Duolingo, Evernote and Salesforce. In 2019, Bevy acquired CMX, the largest organization for community professionals.
How Bevy works with Interprefy

Bizzabo
Bizzabo is one the world's fastest growing event tech company. Bizzabo's events cloud empowers marketers to manage, grow and maximize their events.
How Bizzabo works with Interprefy

Brella
Brella is a leading hybrid, virtual and in-person event platform. Brella connect seamlessly your in-person event with online event. +50 countries. Intent-based matchmaking. 97% users recommend. +1,000,000 happy users.

Cadence Symphony
Cadence is an all-in-one events platform for live, virtual, and hybrid events - evolving the way people host, experience, and remember events.

Eventtia
Eventtia is a cloud­-based event management platform that helps event organizers in small and midsize organizations run corporate, academic, networking and commercial events. Users can create landing pages, run email marketing campaigns, register participants, sell tickets, control access at the event and track attendees.
How Eventtia works with Interprefy
GEVME Live
GEVME is a SaaS cloud-based platform that provides an integrated event solution for greater event registration, ticketing, email marketing, onsite preparations, etc., offered to various industries and businesses.
How GevMe Live works with Interprefy

Hopin
Hopin is an all-in-one, live online events platform with which organizers can create, host and manage live events for up to 100,000 attendees. Hopin's web based virtual venue connects distributed communities, companies, and friends with live video, chat and networking features. Attendees can learn, interact, and connect with people from anywhere in the world.

Hubilo
Hubilo is a virtual + hybrid event platform built for engagement and event excellence. Hubilo's mission is to drive engagement - first and foremost - yielding greater business results. Engagement with your deeply branded experience, paired with our proactive and full-time customer success team ensures every event run on the Hubilo platform executes perfectly every time.
How Hubilo works with Interprefy

Intrado
Connecting people with each other and the right information is mission-critical. Intrado, formerly West, develops innovative cloud-based technology to make it easier, more effective and more efficient to make the right connections.
How Intrado works with Interprefy

JomaBlue
One platform for virtual, hybrid and in-person events, Jomablue provides the creative and operational tools required to bring an event to life. Event management solutions, marketing tools, and real-time event reporting come together in a single location.
How JomaBlue works with Interprefy
Microsoft Teams
Microsoft has teamed up with Interprefy to bring live interpretation to meetings held on Teams. The native integration for Teams adds an Inteprefy sidebar to the meeting, where meeting participants can select their preferred audio language.
How Microsoft Teams works with Interprefy
ON24
ON24, Inc. is a San Francisco-based company that markets products and services based upon webcasting and virtual event and environment technology. The ON24 Digital Experience Platform makes it easy to create, scale and personalize engaging webinar, virtual event and multimedia content experiences​.
How ON24 works with Interprefy

Pathable
Pathable is a event management software provider transitioning their in-person event management tools to better support a more virtual experience. Top features include online agendas, private direct messaging, meeting scheduling, live and video-on-demand options, event analytics, and exhibitor/sponsor tools.
How Pathable works with Interprefy

PGi
PGi offers world-class solutions for online meetings and large-scale events featuring video conferencing, screen share & webcasting.
From small teams to large enterprises,
PGi
offers robust solutions for online meetings, cloud PBX &
events in
a secure environment.

SpotMe
SpotMe is a complete engagement platform. From live to on-demand, planners can easily deliver virtual events, digital experiences, and event apps that their audience loves. From breakout sessions to personalized agendas to two-way communication and gamification, planners have the tools to build a thriving community on and offline.
How SpotMe works with Interprefy

Veertly
Veertly is a leading event platform for interactive and engaging online meetups, conferences, workshops and exhibitions. The platform is highly customizable in terms of its design, but also its functionalities to accommodate different event sizes, from small groups to multiple thousand attendees. Functionalities include a main stage with live streaming functionalities, break-out rooms and sponsor booths, a networking area, chat as well as poll options and more.
How Veertly works with Interprefy

vFairs
vFairs is a virtual & hybrid events platform that helps organizations reach global audiences. Some of their main features include: Extensive customization with features and integrations; Live and semi-live webinars; Stunning 3D design; extensive customer support.
How vFairs works with Interprefy

Webinar.net
webinar.net is a next generation online presentation platform that enables organisations to connect, engage and interact with them. webinar.net simplifies the notorious complex and "clunky" world of online meeting and webcast tools by offering a very simple, branded, engaging and very cost-effective way to deliver webinars to a global audience.
How webinar.net works with Interprefy

wtv.
wtv. is one of the longest established virtual communications agencies in Europe and Asia, headquartered in Geneva, Switzerland with offices in London, Frankfurt, Madrid, Hong Kong and Zurich. wtv. is a leading global virtual events company supporting the world's largest organisations engage their audiences through Virtual Events, Hybrid Events, Webcasting, Technology development and a wide range of digital platforms. wtv. manages projects in over 50 countries in 25 languages for 200+ clients, with a global network of partners. wtv. is an IBM global business video partner.
How wtv. works with Interprefy
Zoom
Interprefy integrates with Zoom to break down language barriers by bringing live interpretation from vetted conference interpreters to your Zoom meetings.
10 benefits of using Interprefy for your Zoom meetings
And the list goes on
If you're missing your tried-and-tested event platform in the list, there's a good chance that it's still been among the 90+ event software providers we've been working with.
Take a look at our knowledge base article to find out more.