Zurich, 20 October 2020 - Interprefy AG is delighted to announce the appointment of Annett Polaszewski-Plath as new Chief Executive Officer, effective 9 November 2020. Annett most recently served as Managing Director at Eventbrite DACH. Acting CEO and founder Kim Ludvigsen will transition from the role of CEO and continue to serve Interprefy as Vice-Chairman of the Board, leading strategic partnerships as well as business development programs.
Annett Polaszewski-Plath will take over from Kim Ludvigsen, who founded the firm in late 2014 and led the business with distinction for 6 years, moving Interprefy from a start-up to a global leader in multi-language online and hybrid event solutions.
Commenting on Annett's appointment, Ludvigsen said: "It has been a tremendous journey to take Interprefy from a business idea on a piece of paper to a global industry leader, delivering thousands of multilingual events month after month. I am proud to have built a profitable, fast growing, global business in just a few years and to be able to pass on the leadership of a dedicated and well-tuned team and a thriving enterprise. I am convinced that Annett is the perfect person to advance the company through the next quantum leap of growth. Her expertise and her innovation-driven mind- and skill sets are exactly what Interprefy needs at this stage. I am personally delighted to be handing over the reins to Annett."
Announcing Annett's appointment, Interprefy Chairman Torben Duer said: "I am delighted to welcome Annett as the new leader of Interprefy. Her extraordinary track record in structuring and scaling business, her depth of event industry expertise and her excitement about joining our business makes Annett the ideal leader to build on the visions, great work and success of Kim and the rest of the Interprefy team."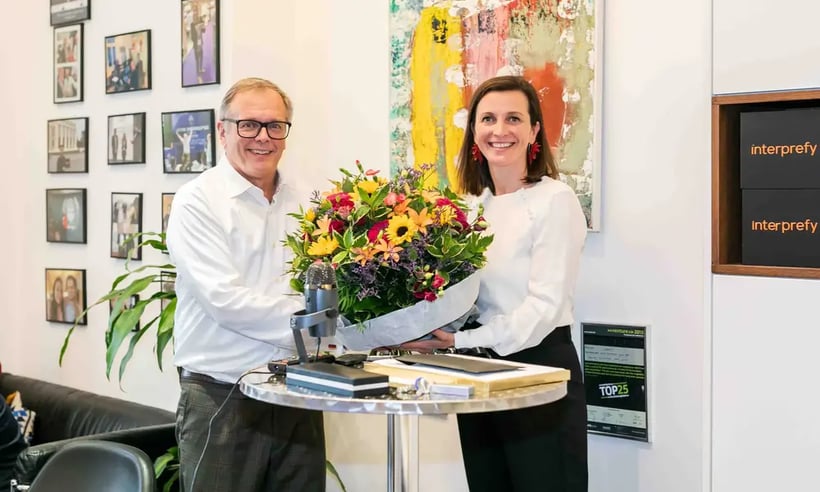 Acting CEO Kim Ludvigsen (left) and future CEO Annett Polaszewski-Plath
Reflecting on her appointment, Annett said: "I am very excited to join the Interprefy family at this stage and am looking forward to leading the team through the next wave of global growth. These are exciting times: Both the global interpretation and professional events markets are only at the beginning of their digital transformation. Interprefy has the right team and technology in place to take a leadership role in this process by removing language barriers and allowing people to connect in their native language across the globe."
Born and studied in Germany, Annett has spent many years living and working in the United Kingdom and United States, and has recently relocated to Zurich, Switzerland, where she lives with her family. Annett has held multiple commercial leadership roles in global tech companies like eBay and PayPal and most recently led the DACH division of global ticketing and event tech platform Eventbrite, where she served as Managing Director.
Interprefy was founded in 2014 by Kim Ludvigsen, aiming to remove language barriers by revolutionizing the delivery of simultaneous interpretation through cloud-based technology. Interprefy has most recently experienced tremendous growth, successfully supporting international organizations, Not-for-Profits and multinational enterprises, such as Google, GlaxoSmithKline or SAP, in taking multi-language events online. With extensive project support, unmatched scalability and flexibility at the core of its offering, clients benefit from tailored solutions to add real-time interpreting to their online and hybrid events on any third-party virtual events and web conferencing platform.
About Interprefy
Interprefy is the leading provider of cloud-based simultaneous interpretation solutions for multilingual online, hybrid and on-site meetings and events. On a mission to remove language barriers to connect people and organizations, Interprefy offers solutions that build upon scalability, flexibility and a range of professional services. Interprefy is loved by leading enterprises, international organizations and not-for-profits across the globe. Because Interprefy partners with leading language service providers the best interpreting talent for any language and subject area, can be sourced.
Downloads:
Media contact:
Jon Brown
Senior PR Account Manager, Huble Digital
interprefy@hubledigital.com
+44 (0)7402 810 045