When it comes to virtual or hybrid meetings, Microsoft Teams stands out as a top choice for many. Its user-friendly interface and versatility make it an everyday tool for both impromptu and scheduled discussions among peers.
Breaking down language barriers in Teams meetings has never been easier. Microsoft has introduced a new built-in feature that makes it possible for people of multiple languages to collaborate seamlessly in Teams. But that's just the beginning. There are several other ways to enhance your Teams meetings and make them more inclusive. Keep reading to find out more.
---
In this article:
Three language interpreting options

---
Enable simultaneous language translation in Teams
Simultaneous interpretation allows interpreters to convey what a speaker says in one language to another in real-time. This is done without disrupting the original flow of the speaker.
Simultaneous interpretation allows for more inclusive meetings, where participants who don't speak the same language can fully understand each other and collaborate across language boundaries.
No matter the type of meeting or event, breaking down language barriers through simultaneous interpretation can lead to successful collaboration and inclusivity. From pitches to town halls, training sessions to webinars, language access is essential for effective communication across diverse participants.
Finding the right interpretation partner for Teams meetings
To ensure successful communication across diverse participants and break down language barriers, it's crucial to find a multilingual meeting service partner who can provide all the necessary services for your Teams meetings. They should not only help you find the best interpreters for your sessions, but also provide the technical expertise and backend technology that ensures a seamless experience for everyone.
Does your multilingual Teams meeting partners tick all these boxes?
Finding the right interpreters for your subject area and language combinations
Remote interpreting training for your in-house interpreters
Professional interpretation soft console with advanced interpreter booth collaboration features (handover, relay, booth partner chat, etc.)
Dedicated project and tech support
Expertise and experience in running multilingual meetings
Flexible Teams language access options for your various Teams meetings, webinars, town halls, and more
Additional services such as media recordings, or meeting transcription
ISO 27001-certified security management
Working with a multilingual meeting partner like Interprefy ensures a seamless experience for everyone involved: the meeting host, the meeting participants, and the assigned interpreters.
---
---
Three language interpreting options and what to look out for
There are multiple ways in which simultaneous interpretation can be made available for your meetings on Teams. Some are a great fit for regular internal meetings, and other for public-facing events.
Each option comes with its own benefits and limitations. Let's look at them in more detail.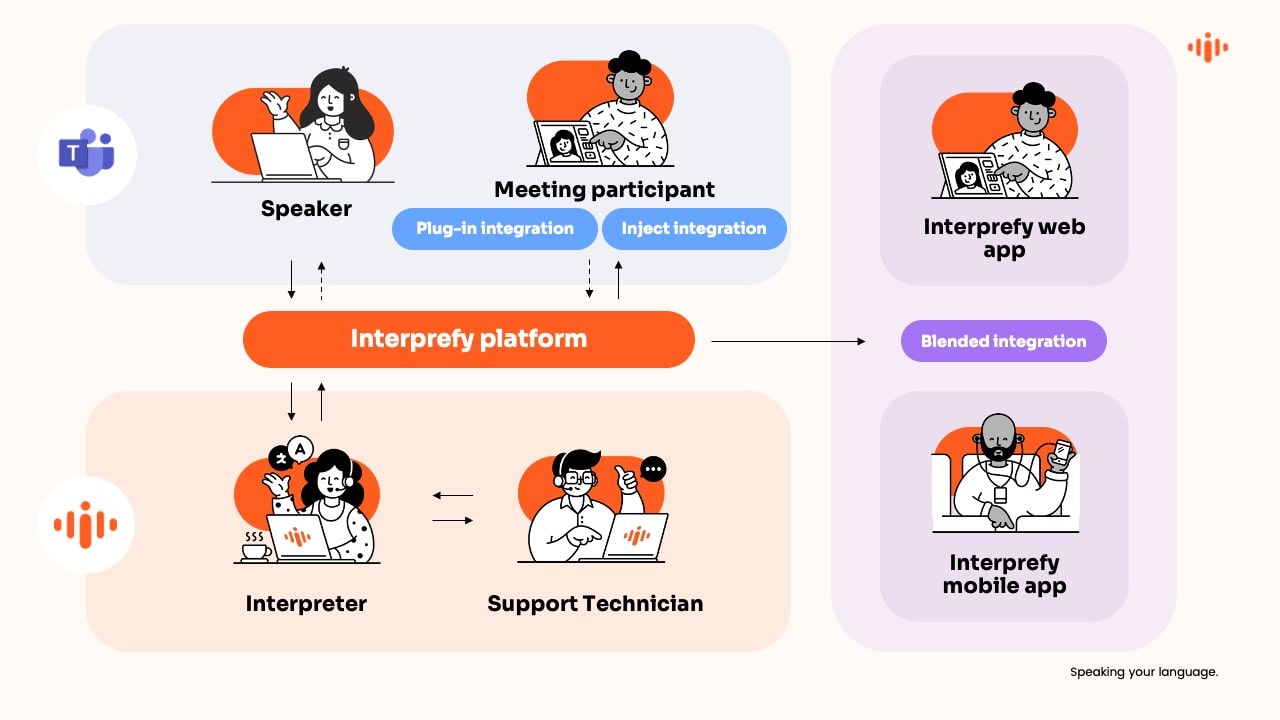 Image: How it works. Interpreters can work and collaborate on a remote simultaneous interpretation platform, while participants can listen to their translated audio either in Teams, or via a second app.
A)
Directly in Teams: One-click interpretation access
Since autumn 2022, Microsoft Teams features a native and simple language interpretation feature. While the functionality in Teams is limited - both for participants and interpreters - it can be combined with Interprefy's leading remote interpreting tech and services, to create a seamless multilingual experience.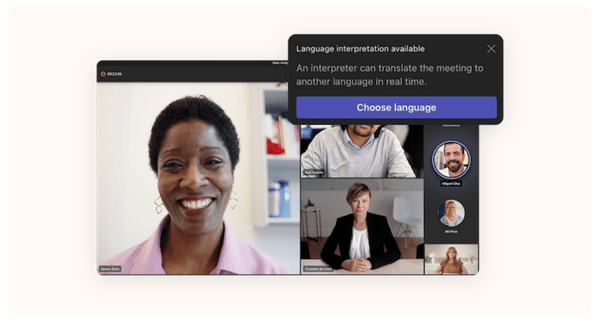 How it works
When enabled by the meeting host, interpreters can be assigned to a language channel and join the meeting. When a speaker talks, the interpreter starts translating the speech into the defined output language. Other meeting participants simply select between the original and interpreted language (see image above).
Elevating Teams language interpretation with Interprefy's leading-edge interpreter soft console
The language interpretation feature in Teams provides the option to have interpreters work in Teams directly. It is however lacking the essential tools of a professional interpreter console, such as audio controls, communicating with the booth partner or support staff, or handover features.
By working with Interprefy, interpreters can work from our leading-edge interpretation soft console and collaborate with both their booth partner and the support technician.
The interpretation audio is then "injected" directly into the language channels in Teams. For the meeting participants, the experience is the same as if interpreters were working in Teams directly. Providing interpreters with professional tools and support can however make a huge difference to the interpretation quality.
Benefits
Access interpreting instantly in the Teams meeting
Easy to set up
Available on both desktop and mobile app
Available for Teams Meetings and Teams Webinars
Limitations
Maximum number of language pairs: 16 (for example, French to Spanish counts as 1 language pair)
Limited relay capabilities
Not available for Teams Live
Not available in breakout rooms
Not available for E2 encrypted Teams meetings
Recommended for
Providing a seamless user experience, the "Inject" integration is a popular choice for Teams meetings and Teams Webinars with simple interpretation setups.
B) Teams Plug-in: Language access in the meeting sidebar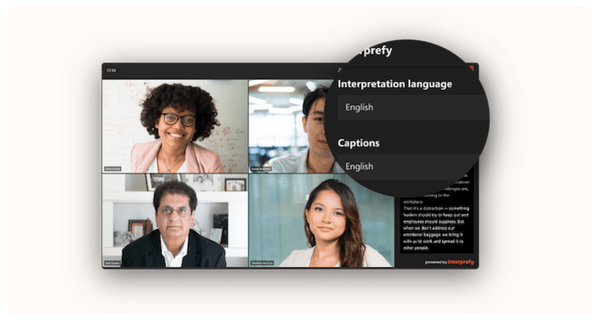 Originally designed to remove the need for on-site presence of interpreters at face-to-face conferences, remote simultaneous interpretation platforms like Interprefy have evolved to support online meetings and events held on any platform.
Interprefy's simultaneous interpretation plug-in for Microsoft Teams can be installed through the Teams app store. Once the plug-in has been installed, and the meeting has been booked with Interprefy, your meeting participants simply open a side panel to choose their language from a dropdown list. Additionally, the Interprefy plug-in can also be used to auto-generate translated captions.
How it works
Benefits
Easy language access for participants during your Teams meetings
Language access for both interpretation audio, and live captioning
Limitations
Available only for Teams desktop app users
Participants require a corporate Teams account to access plug-ins
Plug-ins must be installed on your corporate Teams tenant, meaning IT involvement to grant plug-in permissions is required
Not available in breakout rooms
Accessing meeting chat might interrupt the interpretation audio
Recommended for
The plug-in approach is a seamless and highly secure option for regular multilingual business meetings. Core use cases include internal meetings, business meetings with other companies with a corporate Teams account, internal events (town halls, training sessions, etc.), or meetings between your branches.
C) Alongside Teams: 3-in-1 language access via a web link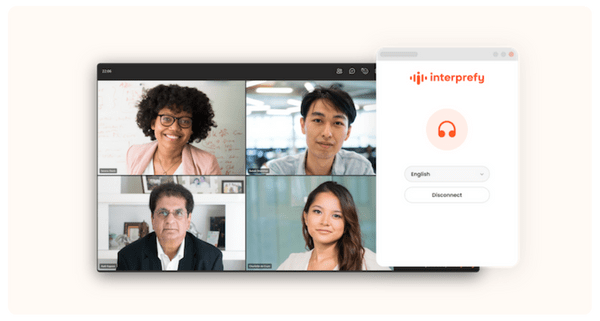 With this blended integration approach your audience accesses simultaneous interpretation alongside the Teams meeting through a web app in a browser window, or in Interprefy's mobile app. This option is easy to set up and makes it possible to provide multiple language access options simultaneously - even to global audiences.
How it works
Much like the remote interpreting plug-in, this approach requires the support of a remote simultaneous interpretation tech provider. Providers like Interprefy stream the meeting audio and video to an interpreter soft console and then send the interpreted audio back to an app that participants open either in their web browser or on their smartphones.
In this app, participants can then choose their language access option and language preference.
Benefits
3-in-one language access: You can make both spoken and signed interpretations available, as well as automatic, multi-language captions
Easy to set up
Flexible language access from both desktop computers (web link) and smartphones (Interprefy mobile app).
Reach global Teams Webinar or Teams Live audiences
Interpretation audio latency management for Teams Live
Limitations
Participants listen to interpretation from a separate app. This requires an extra step for the participant to mute the original Teams meeting
Recommended for
The blended approach is a popular choice for larger meetings, hybrid meetings, or events with broad participation from several organizations, or even the public. It is also a very powerful solution, if you're looking to provide multiple modes of language access (interpreting, sign language interpreting, captioning).
How to choose the right Teams language interpreting option
In order to pick the right option, it's important to evaluate your requirements and setup. Every organisation and every meeting is unique. Ask yourself these questions:
How crucial is the quality of interpreting to the success of your meeting?
How many languages do you require?
How fast do you need to deploy the solution?
Is flexibility a requirement or are you sure of the exact configuration of the meeting at the point of planning?
Could IT issues such as permissions be an obstacle?
Do you have your own in-house interpreters?
How big is your meeting and how many languages are required?
Do you need a recording of the interpretation?
We've successfully facilitated interpretation in thousands of Teams meetings, as well as tens of thousands more on other platforms too. We can assist you in evaluating the best way to work with the familiarity and operational convenience of Teams while removing language barriers and ensuring the most effective communication.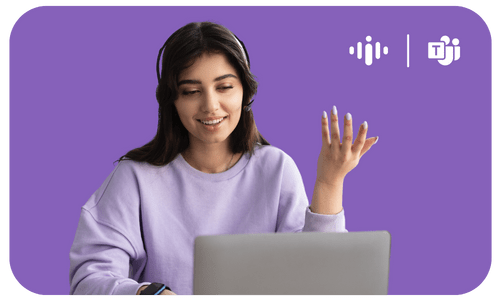 Got questions?
Drop us a line and our team will reach out to help you meet your multilingual Teams meetings needs.