Microsoft Teams is a compelling choice for people looking to organise a remote meeting. For many users it is the familiar everyday tool for both spontaneous and planned peer-to-peer discussions. It may not be the choice for complex events, but its simplicity is valuable when recreating those basic round-the-table experiences.

When those meetings involve multiple languages, can Teams adopt interpretation but still retain its familiarity and simplicity? It may not be obvious, but there are several different ways of enhancing a Teams meeting to allow people of multiple languages to talk, work and grow together. This includes a tantalising new feature being tested by Microsoft as a built-in function within Teams.
---
In this article:
Three language interpreting options and what to look out for



---
Live human language translation in Microsoft Teams
Simultaneous interpretation allows interpreters to convey what a speaker says in one language into another in real-time. This is done without disrupting the original flow of the speaker. Simultaneous interpretation allows for more inclusive meetings, where participants who don't speak the same language can fully understand each other and collaborate across language boundaries.
Three language interpreting options and what to look out for
Whether you are making a pitch, hosting a town hall, leading a training session, chairing a business meeting, or running a webinar - simultaneous interpretation delivers successful collaboration despite language differences.
There are multiple ways in which simultaneous interpretation can be made available for those use cases. Each comes with its own benefits and limitations. Let's look at them in more detail.
Option 1: Simultaneous interpretation app for MS Teams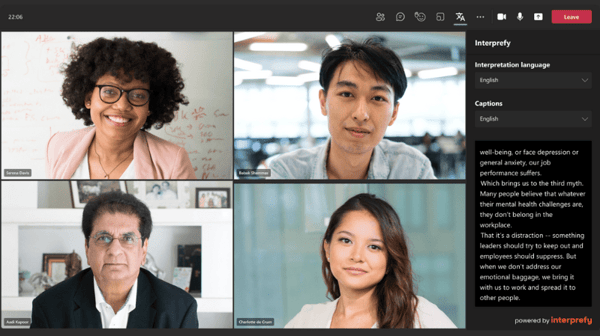 Remote Simultaneous Interpretation (RSI) platforms are designed to provide live interpreting alongside the original speech. The best can handle any event type thanks to their professional seamless and high-quality operation.
Originally used only for face-to-face conferences, to remove the need for interpreters to be on-site, RSI platforms evolved to support online meetings and events too. They allow interpreters to work from anywhere and stream simultaneous interpretation to meetings and events of all shapes and sizes - and to participants communicating on any meeting platform.
The leading RSI providers, like Interprefy, provide more than just the technology. These providers source the most-suitable interpreters for any assignment and support you with set-up and operation of the interpretation throughout your meetings.
Interprefy has developed a language access add-on for Microsoft Teams, that can be installed through the MS Teams app store. Once the meeting has been set up, and interpreters assigned, users can simply open a side panel to choose their language from a dropdown list. With Interprefy, spoken languages are catered for but also live captioning and subtitling. Once your language is selected and the interpreter is talking, the original speaker will be muted and crystal-clear real-time interpreting will be audible.
How it works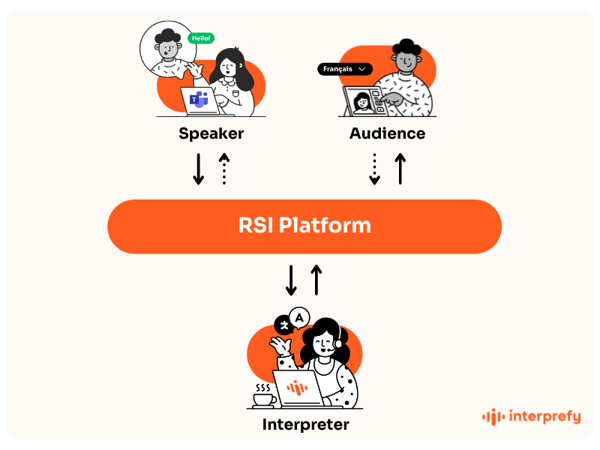 Benefits
Interpreter soft console: Interpreters work individually or (for longer meetings) in pairs using dedicated user interfaces (soft consoles). These include advanced functions which are specific to professional simultaneous interpretation such as relay, hand-over, partner chat and more.
Ease of use: Easy language access for meeting participants through a language dropdown list in a Teams app side panel.
Unlimited languages: Any language combination is possible and any number of languages can be used.
Captions: Automatically generated captions can be added and these will take their source from both speakers and interpreters.
Subtitles: Automatic artificial intelligence (AI) translated captions can be easily added.
Peace of mind: Interprefy provides professional project and technical support before, after, and crucially during the meeting. Interprefy are your professional partner for the event.
Limitations
Participant access to interpreting add-on is only available for meeting participants with a corporate MS Teams account.
Accessing chat within Teams on the meeting window, or accessing other features on their own tab, will interrupt interpretation. This is a feature of MS Teams.
Configuration to allow the meeting to take place may require IT involvement to provide the required permissions for the app. Once again, this is a feature of MS Teams.
When to choose this solution
This solution provides a seamless language access experience for both the meeting participants, as well as to the interpreters. It can provide both live interpretation, as well as automatic and AI-translated captioning. At the moment, for full functionality, it requires all meeting participants to have a corporate MS Teams account.
Therefore this solution is a popular choice for multilingual internal meetings, business meetings with other companies with a corporate Teams account, internal events (town halls, training sessions, etc.), or meetings between branches.
Option 2: Accessing interpreting alongside Teams in a separate web or mobile app
Microsoft Teams has a complex permission structure, that requires meeting apps to be installed on the host tenant, rather than in the meeting itself. Therefore if users without a corporate Microsoft account try accessing add-ons in a meeting, often the app is not available to external, or free Teams users.
But worry not. There is a compelling blended operation option that allows even free users to access language interpretation during a Teams meeting, through either a separate app in their web browser, or in Interprefy's mobile app.
How it works
Much like the RSI add-on, this approach requires the support of an RSI provider, like Interprefy, to stream the meeting audio and video to an interpreter soft console and then send the interpreted audio back to an app that participants open either in their web browser or on their smartphones.
Web app that opens in a browser window:

Interprefy mobile app: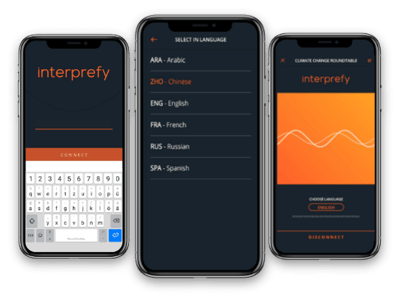 Benefits
Interpreter soft console: Providing all the sophistication of a professional interpretation solution. The improved working environment, additional controls and more sophisticated ways of working mean interpreters are more focused, more effective, and more able to cope with situations like handover during extended meetings.
Unlimited languages: Unlike Team's native solution, any number and combination of languages can be supported
Easy to deploy: The Interprefy solution is complete, dedicated to the task, and ready to go. Our services even include training so interpreters know both the operation and etiquette needed to cover the meeting.
Interpreting access for external users: Unlike built-in access solutions, people outside your organisation joining the session, can access interpreting through the app.
Signed interpretation: Sign-language interpretation can be added.
Captions: Automatic captions from speakers and interpreters can be added in multiple languages.
Subtitles: Translated captions, automatically translated using the latest in Artificial Intelligence technology, can be added.
Ease of mind: Professional project and technical support before, during and after the meeting.
Limitations
Participants listen to interpretation from a separate app. This requires an extra step for the participant to mute the original Teams meeting.


When to choose this solution
Much like the add-on solution, this solution comes with the full end-to-end support of Interprefy, and can provide you with live interpretation, automatic captioning, AI-translated captioning, plus signed interpreting. While users will access these services from either a browser tab, or the Interprefy mobile app, there is no need for users to have a Teams account.
These aspects make this solution a popular choice for: meetings or events with broad participation from several organisations, meetings or events that involve the public, short-notice meetings where getting your meeting partner's IT departments to grant permission in time could be challenging , meetings with organisations that do not use Microsoft and so don't have their own account
Option 3: New MS Teams language interpretation feature
The latest option available, Microsoft Teams now features a native language interpretation feature. Developed in collaboration with the Welsh government, we understand the feature is currently in public review stage and the release date for the general public is still unknown.

How it works
When enabled by the meeting host, interpreters would need to be booked in advance of the meeting and provided with a corporate user login. Assigned interpreters would then be assigned a language channel by the meeting host and join the meeting as participants. When a speaker talks, the interpreter starts translating the speech into the defined output language. Other meeting participants simply select between the original and interpreted language. Some users report on the community board, that the original speech does not get muted, but the interpreter audio will be streamed alongside the original speech audio.
Benefits
Ease of use: Users can access live interpretation from a simple language selector.
Limitations
Availability unknown: Currently in public review stage. In other words, it is not a released product. Microsoft well move it to a standard feature soon but as yet we understand that no date has been given.
Very limited language options: Though many meetings require only two languages, a lot need additional languages and that includes meetings that were thought to be just dual language when originally planned.
No dedicated interpreter tools: This also means, that relay languages, and handover functions, both mainstream parts of any simultaneous interpretation operation, are not available.
One-way: Only uni-directional translation is possible per interpreter channel. This means that people who speak one language can talk to the people that understand a second language but not the reverse. It's good for one-way presentations or where the user wishes to hire twice as many interpreters.
Restricted interpreter access: Interpreters cannot be external Teams users. Again, this is a current limitation that may change in the future. For now, though, this makes it difficult or impossible to use external interpreters. The solution is suitable for organisations where the interpreters are employed in-house.
No support: No project or technical support available. We understand that this is a software feature and not a supported way of operating with technical assistance on hand during the event to sort any issues.
Audio overlap: At the time of writing this article, it was reported that the user will hear both the original and the interpretation. For many users this makes following the dialogue much harder. It can be a particular problem for those with certain disabilities.
When to choose this solution
This solution is still very new and appears to lack some key RSI features. But it appears to be an interesting solution to explore for organisations looking to host short, simple multilingual meetings with their in-house interpreters, where only two languages are required.
How to choose the best Teams language interpreting option
In order to pick the right option, it's important to evaluate your requirements and setup. Every organisation and every meeting is unique. Ask yourself these questions:
How crucial is the quality of interpreting to the success of your meeting?
How many languages do you require?
How fast do you need to deploy the solution?
Is flexibility a requirement or are you sure of the exact configuration of the meeting at the point of planning?
Could IT issues such as permissions be an obstacle?
Do you have your own in-house interpreters?
How big is your meeting and how many languages are required?
Do you need a recording of the interpretation?
We've successfully facilitated interpretation in thousands of Teams meetings, as well as tens of thousands more on other platforms too. We're always happy to assist you in evaluating the best way to work with the familiarity and operational convenience of Teams while removing language barriers and ensuring the most effective communication.
---
Related articles