Unlike traditional event spaces where interpreters are visible on-site, the work that goes into Remote Simultaneous Interpretation (RSI) is often invisible to both event organisers and participants.

As so much of RSI happens behind the scenes, event planners looking to partner with an RSI solutions provider often ask, " What does RSI actually provide and how much will it cost me?"

To answer this question, we must first explore how RSI compares with the costs of traditional interpretation for events.
Is RSI cheaper than in-person interpretation?
A lot goes into securing on-site interpretation. First, you need to source talent. Then, you need to organise and pay for flights, accommodation, and transportation to and from events for each interpreter. Enabling on-site interpretation also requires renting equipment and setting up interpretation booths at the venue. If multiple languages require interpretation, then the cost of onsite interpretation can skyrocket — generally, two interpreters are needed per language combination. Your venue choice is also affected, as the event space needs to be large enough to accommodate guests and several interpreter booths.

Apart from the financial and organisational burden, on-site interpretation also incurs a significant environmental cost. Rightfully, we are all increasingly conscious of reducing our carbon footprint, with 83% of event professionals stating that lowering their carbon footprint is a key concern — according to an American Express report. Fortunately, something as simple as cutting down on transport and accommodation requirements for events is the most effective way to reduce event emissions. We explore the latest insights on event sustainability and highlight how event managers can reduce their carbon footprint in our guide to Environmentally Responsible Event Planning in 2022.

The right Remote Simultaneous Interpretation platform makes it easy for interpreters to provide their services from anywhere in the world. This eliminates the need to transport and house interpreters and set up interpreter booths. Along with saving money in these areas, RSI reduces an event's carbon footprint by no longer requiring interpreters to travel to events.

RSI platforms cater to the interpreting needs of any on-site, hybrid or fully virtual meeting or event — at a lower financial and environmental cost compared to traditional event approaches, where interpreters are visible on site.
RSI: What you pay for
While RSI consists of advanced software, securing accurate and culturally sensitive interpretation is dependent on the experience and skill of human interpreters. Generally, the following factors into the price of any RSI solution:
Interpreters

— RSI solutions like Interprefy can source and vet the best match of professional conference interpreters for you. The cost will depend on:
- Number of languages required
- Language combinations
- Duration of event and sessions
Project management — your RSI provider assigns a dedicated Project Manager to each event to handle all the logistics of organising interpretation and platform set-up before the event. They also help to integrate the RSI platform with your tech stack. This includes finding, managing and briefing interpreters and ensuring that their equipment is working.
Remote support — reputable RSI vendors should provide technical support throughout the event, like monitoring interpretation and offering hardware and software troubleshooting.
Platform usage — technology fees for using an RSI platform vary between events. The price is influenced by event complexity, the number of attendees requiring interpretation, and event duration.
Payment models differ between service providers. Some RSI platforms require annual subscriptions, while others, like Interprefy, charge on a per-event basis. Be sure to work with a service provider who offers the model that best suits you — whether you prefer to only pay for what you use, or want the security of an always-on subscription.


Reduce the cost of your events with an RSI solution like Interprefy
With its extensive capabilities and versatility, RSI saves on some of the most significant costs of fully in-person interpretation — without compromising on the quality of service.
Remote simultaneous interpretation can save you up to 75% in interpreter costs and an average saving of 50-60% on technology, as the table below shows: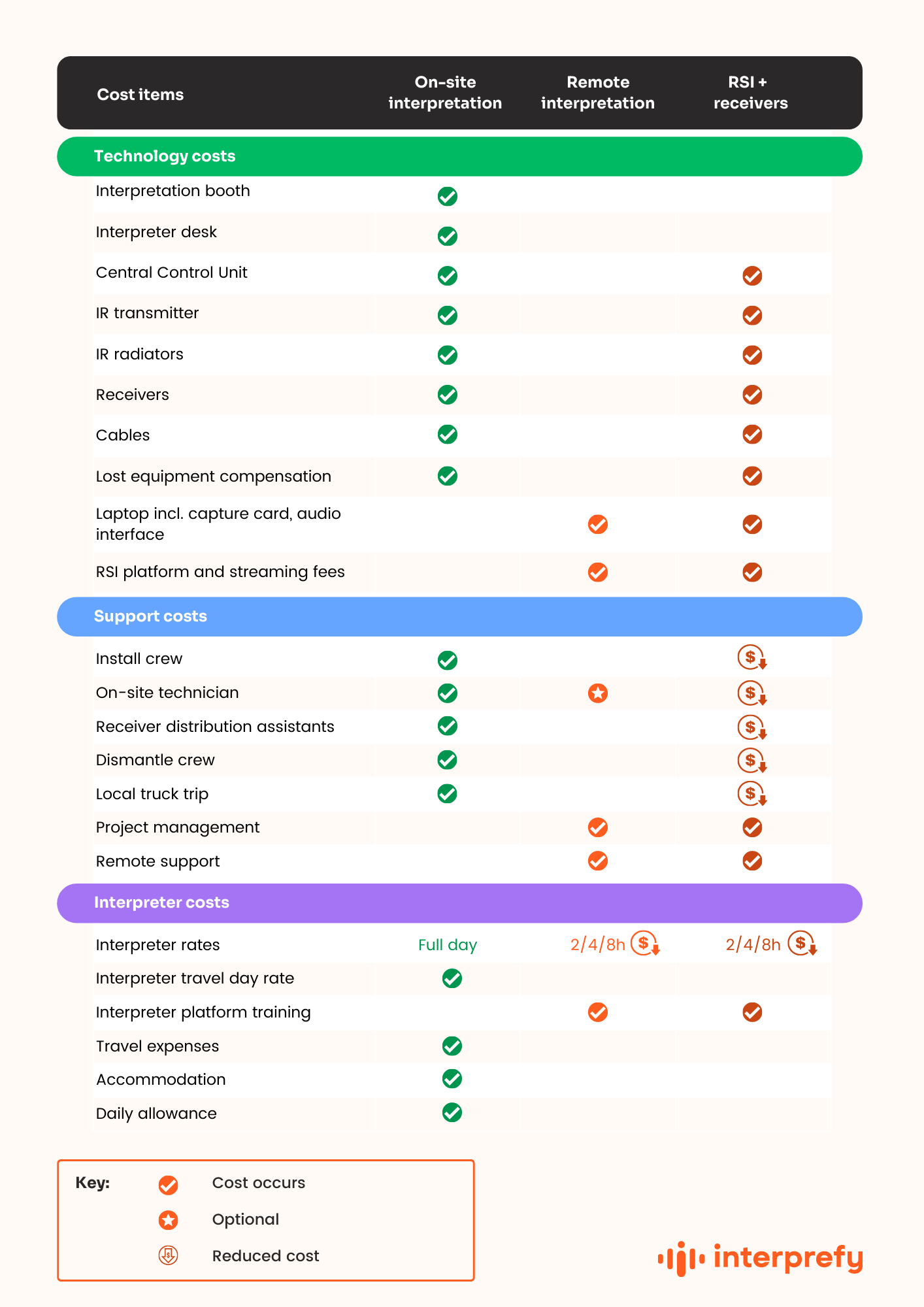 Is AI real-time translation more cost-effective than RSI?
Interpretation focuses on working with spoken language in real-time, where a skilled service provider interprets on the spot and during a live scenario. Meanwhile, translation refers to a process involving written content — typically happening over a period of time, with extensive access to external resources.

Advancements in AI and other technology have made it possible to generate translations automatically and in real-time. These translations are produced through:
Automated Speech Recognition (ASR) Captions
Machine-Translated Captions
This has made real-time translation a viable presence at in-person events, and for web conferencing and business meetings. Although AI translations are slowly entering the market, providing captioning for events is becoming standard for high-calibre events. Combining cost-effective AI translations with interpretation leverages the advantages of written and spoken communication — a best of both worlds approach that sets industry leaders apart.

Using RSI platforms like Interprefy, you can add any combination of language interpretation, lower-cost machine translation and automatic captioning — all in the same user interface. This enables you to cater to multiple languages at a more reasonable price point.


Weighing up the costs and benefits of RSI and AI real-time translation
RSI is significantly more affordable than hiring onsite interpreters while maintaining the quality of service attendees have come to expect of industry leaders. AI real-time translations are an even more cost-effective alternative but offer the most significant benefit when paired with RSI.

Interprefy provides both, along with extensive technical and project support for all your event types. We'll tailor quotes to match the exact requirements and circumstances of each event, so you get exactly what you pay for.
Get in touch with our team to discuss your event translation needs, and explore whether RSI, AI real-time translation or a combination of both will best suit your needs and budget.