"How does remote simultaneous interpretation work" is a question we're often asked.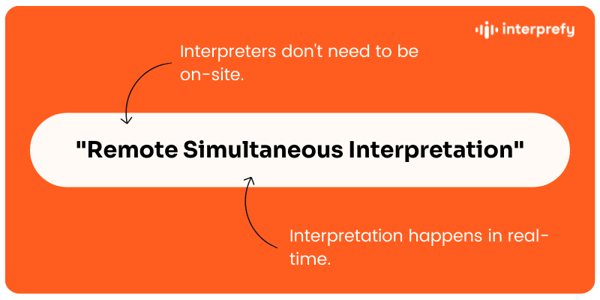 Having interpreters work remotely slashes costs while enabling greater flexibility. When done right, Remote Simultaneous Interpretation (or RSI) is a modern solution for making your next event multilingual.
Simultaneous interpretation is the process of translating speech from one language to another in real-time.
Remote Simultaneous Interpretation (RSI) eliminates the need for on-site interpreters and equipment—reducing costs, carbon emissions, and the burden on event organizers.
Remote Simultaneous Interpretation (RSI) works off the back of cloud technology and smart devices to create a frictionless experience for attendees/delegates.
In this blog we look at how remote simultaneous interpretation works, when you can use it, and why you should use it for your event.
When you hear the word "interpreter", what do you see?
If you're thinking of a professional translator standing by, waiting for a speaker to finish a sentence in their native language, you'd be right—but you'd also be thinking of "consecutive interpretation", one of several types of interpreter services offered today.
"Simultaneous interpretation" is the process of interpreting or translating speech from one language to another, while that speech is still in progress. Historically, this has involved the procurement and distribution of wireless receivers and headsets, as well as soundproof booths for the interpreters.
---
Related article
A comprehensive guide to simultaneous interpretation
---
When you add "remote" to this equation, you've discovered a scalable way to make conferences of any size accessible to a multilingual audience.
How does remote simultaneous interpretation (RSI) work?
Speaker— a presenter speaks in one language. Their voice and image are streamed live to a remote interpreter, typically through a web browser on a laptop or desktop computer.
Interpreter(s) — an interpreter hears and sees the speaker on their device. Using a quality headset and microphone, they translate the speaker's language into another language, in real-time.
RSI Platform — the interpreter's speech is transmitted to a cloud-based Remote Simultaneous Interpretation platform through their laptop or desktop computer. Good broadband is essential! Platforms like Interprefy integrate with popular teleconferencing products like Skype, WebEx, and Zoom, as well as offering a standalone web conferencing service.
Audience — attendees and/or delegates can connect to the RSI platform via a computer or mobile device, seeing and hearing the speaker in the language of their choice.
Why remote simultaneous interpretation (RSI)
Reduced costs— Interprefy, one of the leading RSI platforms, has been shown to reduce the cost of interpreting an event by over 50% of traditional costs, without compromising on quality.
Increased flexibility — press conferences and meetings often need to be arranged at short notice. RSI means you can offer multiple languages to your audience anytime, anywhere, via either traditional receivers (in case of poor WiFi at an event, for example) or attendees' own smart devices. RSI also improves access to rare language interpreters.
Reduced admin — with no need to organize flights and accommodation for professional interpreters, event organizers can focus on what matters most: booking the most qualified interpreters for their event.
Hassle-free tech — gone are the days of expensive on-site interpretation equipment. With remote simultaneous interpretation, participants adhere to the rule of "Bring Your Own Device" and listen in their own language.
More environmentally friendly — working remotely means interpreters don't have to travel long distances to provide their services, reducing the carbon footprint of multilingual meetings and events.
More floor space — Remote Simultaneous Interpretation takes away the need for soundproof interpreter booths, freeing up valuable venue space.
Greater versatility — with RSI, events at difficult-to-reach locations like remote islands, resorts, and mountains can now be served by world-class interpreters. If desired, event organizers can even offer "remote attendance" to those who can't be there in person.
High-fidelity sound — despite not relying on expensive equipment like IR and radio transmitters, Remote Simultaneous Interpretation is capable of delivering full bandwidth (20Hz - 20kHz) sound at extremely low latency—along with high-quality video and lip-sync.
Frictionless experience — their language, through their devices. No need to queue for a headset. Plus, premium platforms like Interprefy offer tailored technical support during events, enabling organisers to focus solely on achieving their event outcomes.
When can remote simultaneous interpretation (RSI) be used?
RSI can be used anywhere people meet and collaborate in multiple languages. Remote Simultaneous Interpretation solutions like Interprefy can cater to any online, hybrid, or on-site event – from small, intimate Zoom meetings to large-scale, multinational conferences.
Conferences - Simultaneous interpretation (SI) has historically been used most commonly with large conferences, with interpreters needing to be on-site to offer their services. Remote Simultaneous Interpretation (RSI) saves time and money while improving accessibility and creating greater intimacy between speakers and delegates.
Panel discussions - One of the more traditional use-cases for consecutive interpretation, RSI works well in panel discussions, with no limit on the number of languages used.
Online meetings and webinars - Many RSI platforms today offer both standalone video conference, as well as integration with major video conferencing products, such as Skype, WebEx, Zoom, GoToMeeting, and others.
Seminars - Ensuring proper knowledge retention and effective training typically requires a good comprehension of the presenter's language, especially if technical topics are being discussed. Incorporating RSI into a seminar is an excellent way to ensure correct understanding of the topic.
Small meetings - In removing language barriers, RSI can greatly increase productivity and trust inside global companies, with regional team members able to express themselves confidently in their mother tongue.
Discover more use cases here.
Now you have a better idea how remote simultaneous interpretation works, check out our other blogs for more information on how it can be used.
More resources:
Are you ready to remove language barriers in your meetings through remote simultaneous interpretation?