Overview
The Confederation of Danish Industri (DI) is one of Denmark's business organizations (chambers of commerce) and employers' organizations. DI's event team wanted to hold a conference with mainly Arabic speaking participants in January 2017 at the Hotel Narcissus in Riyadh, Saudi Arabia. The event was organized over a hotel WiFI network at very short notice.
The sound quality was perfect
- Peter V.H. | Project Manager, Dansk Industri
The Challenge
Arabic Translation for an institutional event
Interprefy was contacted by Dansk Industri with little advance notice about an upcoming large event. The conference was going to take place in a hotel and Interprefy needed to rely on the local WiFi connection. After considerable testing, carried out by Interprefy's in-house technicians working remotely, the WiFi was deemed suitable to run the event. Dansk Industri's event was going to run in Arabic and English, but the event organizers were unsure how many attendees would require interpreting.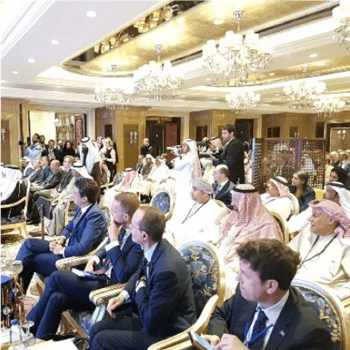 The Approach
Remote RSI support & partner interpreters
As the exact number of conference delegates was uncertain, DI was not sure whether streaming to smartphones would be sufficient or a transmitter and headphones had to be rented.

Working closely with DI's event team and after extensive testing with the hotel's IT department, Interprefy's tech team determined that interpreting could be relayed through the local Wi-Fi onto delegates' smart-devices. The two interpreters English to Arabic worked from Interprefy's partner Ubiqus' premises in London. The event was set up and managed by Interprefy's event management completely remotely by using TeamViewer.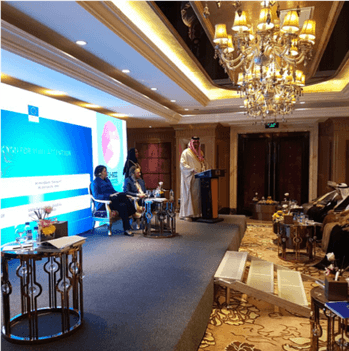 The Outcome
The event ran with the provision of audio and video streaming, with 100% uptime. Originally, DI had requested for interpreting from
 English to Arabic. But, in the middle of the event DI's onsite asked if 
Interprefy could add Arabic to English.
Among the event's happy users was the EU commissioner Violeta Bulc. The conference was a success and DI was happy to be able to apply their financial savings to improving the event in other areas.
"We were pleased to use this efficient and cost saving technology. We had some last-minute changes, which the Interprefy team successfully managed to implement remotely."
- Peter V. H., Project Manager at Dansk Industri
Related Case Studies
MCI Australia delivers eight languages at the World Congress of Accountants