Update August 16, 2021 - The pre-call testing functionality has been upgraded to allow you to record and listen to a sample of your voice - available for any session. Learn more
While connecting remotely via web conferencing software has become an established component of daily work for most people, getting your computer settings and equipment in place before joining an online meeting can still be in the way of successfully connecting.
That's why we're introducing the Pre-Call Test for Interprefy Connect and Interprefy Connect Pro meetings, allowing meeting participants and interpreters to get a full overview of their computer settings and internet speed ahead of the meeting.
If enabled through the event manager in the Interprefy Event Management Interface (EMI), you will be sent to a dedicated test page when logging into a meeting.
On this test page, you will be able to double-check the following parameters: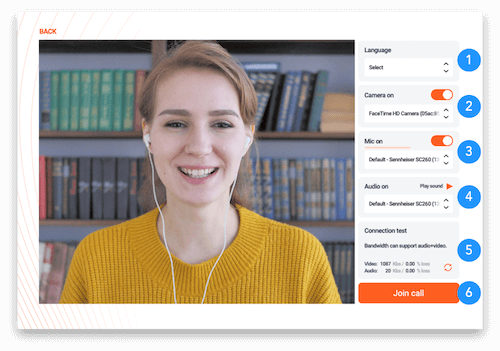 Select your preferred language

- Select "none" to

hear

the floor language. Select other language, if interpretation

is

available

,

click

«

save

»

.

Camera on

–

Select

your

camera

or

move

toggle

to

deactivate

camera

.

Mic on –

Select

your

audio

input

device

or

move

toggle

to

deactivate

audio

input

.

Audio on –

Select

your

headset

or

speaker

device

.

Click

"

play

sound

»

to

test

if

you

hear

a

test

sound

through

the

selected

device

.

Connection test -

Measure

your

internet

bandwidth

for

video

and

audio

streaming

.

Join call

–

Click

to

proceed

to

your

meeting

.
Double-check your settings and adjust, where necessary. When everything is in place, simply confirm by clicking "join call" and you will be entering your Connect (Pro) meeting.
Watch it in action: