Exciting news! Interprefy Aivia has just expanded its AI speech translation capabilities like never before, allowing for seamless translation in almost 50 new languages. This is a game changer for event planners who can now provide language access for a wider range of audiences than ever before.
With Interprefy Aivia, event planners can now translate live speech from 45 languages and regional dialects into AI-generated audio and captions in 73 languages. This includes all official UN languages, almost all official EU languages, and the most spoken Asian languages. And the list keeps growing.
The AI event translator can be seamlessly integrated with any of our partnering 70 event platforms and popular meeting platforms such as Microsoft Teams and Zoom to create seamless, and budget-friendly language access for webinars, town halls, training sessions, business meetings, and more.
But that's not all. Event planners can further utilise Interprefy Aivia to translate live events and conferences by providing attendees with language access through their mobiles, or even radio / IR receivers.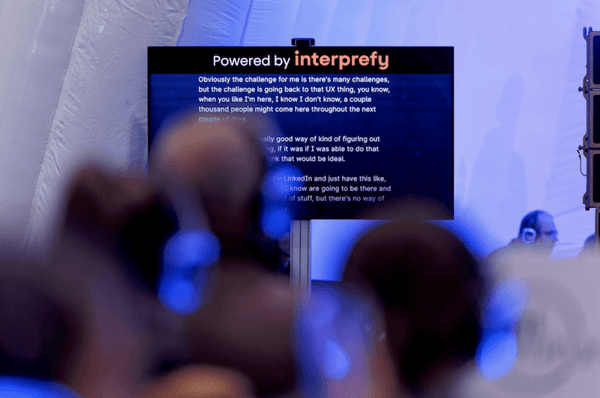 Image: AI-generated captions on-screen during Event Tech Live
Curious to witness the magic of our AI event translator in action?
See it through the eyes of a mesmerized participant of Event Tech Live Las Vegas who witnessed live AI speech translation during one of the sessions.
So which languages can Interprefy Aivia translate from and to?
Interprefy Aivia can now provide real-time translated audio and captions from and to the following languages.
From:
Afrikaans
Albanian
Amharic
Arabic
Armenian
Bengali
Bosnian
Chinese Cantonese
Chinese Mandarin
Danish
Dutch
English (Australia)
English (South Africa)
English (UK)
English (US)
Filipino
French (France)
French (Canada)
Georgian
German
Gujarati
Hebrew
Hindi
Icelandic
Irish
Italian
Japanese
Kannada
Kazakh
Korean
Lithuanian
Macedonian
Malayalam
Maltese
Marathi
Norwegian
Pashto
Persian
Portuguese (Brazil)
Portuguese (Portugal)
Russian
Serbian
Sinhala
Somali
Spanish (Mexico)
Spanish (Spain)
Swahili
Swedish
Telugu
Turkish
Urdu
Uzbek
To:
Afrikaans
Albanian
Amharic
Arabic
Armenian
Bengali
Bosnian
Bulgarian
Catalan
Chinese (Cantonese)
Chinese (Mandarin)
Croatian
Czech
Danish
Dutch
English (Australia)
English (South Africa)
English (United Kingdom)
English (United States)
Estonian
Filipino
Finnish
French (Canada)
French (France)
Georgian
German
Greek
Gujarati
Hebrew
Hindi
Hungarian
Icelandic
Indonesian
Irish
Italian
Japanese
Kannada
Kazakh
Korean
Latvian
Lithuanian
Macedonian
Malay
Malayalam
Maltese
Marathi
Mongolian
Norwegian
Pashto
Persian
Polish
Portuguese (Brazil)
Portuguese (Portugal)
Romanian
Russian
Serbian
Sinhala
Slovak
Slovenian
Somali
Spanish (Mexico)
Spanish (Spain)
Swahili
Swedish
Tamil
Telugu
Thai
Turkish
Ukrainian
Urdu
Uzbek
Vietnamese
Welsh
In addition to these languages, Interprefy Aivia can provide AI-translated captions in the following languages:
Azerbaijani
Dari
Haitian Creole
Hausa
Punjabi