The issue of language rights has been divisive in Quebec, Canada, for many years. Only 8.9% of Quebec residents identify as native English speakers, while 79% of residents are native French speakers, official numbers show.
In May 2022, the Quebec government passed Bill 96, aiming to "promote the French language, protect the French language (..)", as Quebec's language minister Simon Jolin-Barrette put it.
This article will discuss the implications of Bill 96, how to make bilingual business meetings a reality, and how Interprefy supported BDO Canada in translating their events in aid of Bill 96.
What is Bill 96?
The Quebec government enacted Bill 101, the Charter of the French Language in Quebec, more than 40 years ago. Through a variety of requirements, this Quebec language law sought to make French the province's official language in public settings (such as courts, schools, and businesses).
However, in May 2022, Québec's National Assembly overhauled Bill 101 and adopted a new law (Bill 96) aimed at strengthening the use of French language in Quebec through linguistic obligations.
Supporters of the new changes hope that they will more formally and consistently recognise French as the official language of Quebec.
When will Bill 96 come into effect?
Many of the new requirements have already taken effect as of June 22, 2022.
These include the rights of consumers and business clients in Quebec to be served in French and employee-related documents and communication to be in French.
Other amendments come into effect on these dates: September 1, 2022, December 1, 2022, June 1, 2023, June 1, 2024, and June 1, 2025.
Implications for business meetings
The implications of this new law are significant. Businesses need to be prepared to comply with the law, which could require rethinking their internal communication processes and working with language service partners for their various communication methods.
Those who fail to comply with the law could face penalties, such as fines.
The importance of having French translation at business meetings
As the workplace becomes increasingly globalised, the need for effective communication between employees of different language backgrounds has never been greater.
While English is typically the language of business, the globally connected business world and the availability of translation technologies for video conferencing has led many companies to rethink the way they collaborate.
Business meetings, town halls, branch meetings, training sessions, and webinars can all now allow attendees to join, listen, and speak in their native tongues.
Language service options for meetings
When it comes to providing language access for meetings, there are a few different options available:
Simultaneous interpretation between English and French
Professional interpretation services are a great option to translate speech, without interrupting the conversation flow. Thanks to specialised, cloud-based platforms like Interprefy, today interpreters don't need to be on-site. Instead, they can log in online, and translate your meetings in real-time.
Integrations with meeting platforms like Zoom, Teams, Webex, or webinar platforms like ON24, or Hopin, make it easy to bring simultaneous interpretation to everyone.
All your colleagues, clients, or peers need to do is select their preferred language from a dropdown list of languages during the meeting.
Live-translated captions
Well known from the world of TV and streaming services, live captioning allows users to follow the speech with subtitles, generated in real-time.
Advancements in AI technology have made it possible to provide auto-generated captions in another language. Specialised tools like Interprefy's AI translated captions even provide meeting support and engine customisation options to capture hard-to-catch terms like speaker names, brand names, or industry-specific acronyms.
How to find a professional French interpreter
Finding a professional French interpreter for businesses in Quebec that are required to use French when communicating with customers under Bill 96 can be daunting.
Here are a few tips to consider when looking for the right interpreter for your business needs.
First, consider what type of interpretation is required for their specific needs. For example, if you require interpretation services for a live event such as a conference, you will need to hire an interpreter who is experienced in simultaneous interpretation.
If you require interpretation for a highly complex, or technical subject area, it's best to work with a language service partner who can find a subject-savvy professional interpreter for you.
At Interprefy, we work with reputable Language Service Providers to find the right match of experienced professional interpreters for any given industry.
Tips for working with a French interpreter
When working with a French interpreter, it is important to help them prepare with relevant documentation, slides, or speaking points.
During the meeting it is important to be clear and concise when speaking. This will make it easier for the interpreter to translate what is being said. If there are multiple speakers, it is helpful to designate who will be speaking when, so that the interpreter can more easily follow along. Try to avoid idiomatic expressions, jargon, or slang, as these can be difficult to translate.
It is also important to allow for slight pauses in the conversation, as this gives the interpreter time to accurately translate what is being said.
By following these tips, you can help ensure that your communication with a French interpreter is effective and accurate.
How BDO Canada complied with Bill 96
Headquartered in Toronto, BDO Canada has 116 offices, over 450 partners, and a vision "to be the best professional services firm in the mid-market―the best partner to our clients and the best workplace for our people".
As a consequence of Bill 96, BDO saw a big increase in French content demand.
"The introduction of Bill 96 brings many changes to how we communicate in social media, at events and much more. We are looking into the Bill to understand the nuances but we are ready to embrace the change." explains Gretchen Newman, National Senior Manager, Events & Experiential Marketing at BDO Canada.
BDO hosts a variety of events, including live internal and external gatherings as well as online webinars and virtual conferences.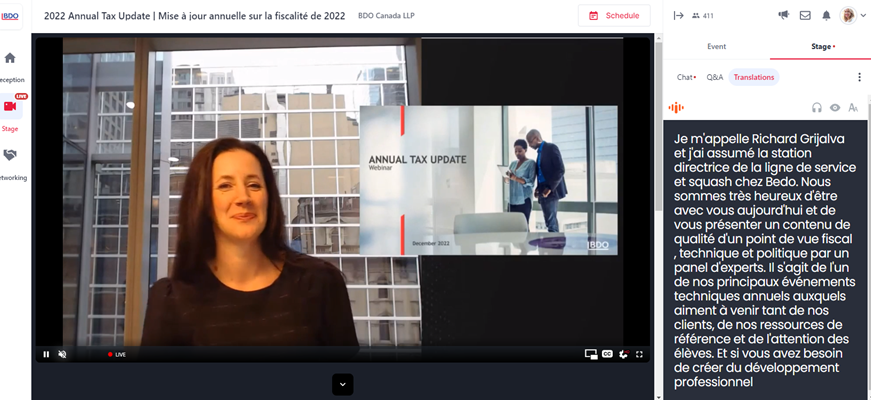 BDO has enlisted Interprefy to provide French interpretation for all oral content produced under Bill 96.
"Knowing that Interprefy can also support us at in-person events as well as online, provide SRT files for on-demand watching and even live captions and translated captions makes the whole process of complying with the bill easier" Gretchen Newman, National Senior Manager, Events & Experiential Marketing at BDO Canada.