BDO is an international network of public accounting, tax, consulting and business advisory firms that provide professional services under the name BDO. It is the fifth-largest accounting network in the world.
Headquartered in Toronto, BDO Canada has 116 offices, over 450 partners, and a vision "to be the best professional services firm in the mid-market―the best partner to our clients and the best workplace for our people".
Overview
BDO Canada's commitment to understanding their client's needs, fostering strong relationships through hands-on partner involvement, and delivering exceptional service was why they started using simultaneous interpretation in the first place.
Interprefy has assisted BDO in making their events multilingual for over a year.
The Challenge
Understanding Bill 96 demands and simplifying its adoption
With the adoption of Bill 96 by Québec's National Assembly in May 2022, BDO Canada saw an exponential increase in French content demand.
Whereas in the past their demand for interpretation responded to their audiences' needs, with the new law any event held in or with participants from Quebec must be available also in French.
"The introduction of Bill 96 brings many changes to how we communicate in social media, at events and much more. We are looking into the Bill to understand the nuances but we are ready to embrace the change." Explains Gretchen Newman, National Senior Manager, Events & Experiential Marketing at BDO Canada.
Having used interpretation in the past has definitely helped to adapt and being able to get more than one service in the same place has reduced the number of steps to take." Gretchen says.
The Approach
Turning to their trusted multilingual event technology partner to comply with Bill 96.
The events that BDO runs vary from online webinars and virtual conferences to in-person internal and external events. For all the content produced orally that falls under Bill 96, BDO has turned to Interprefy to provide French interpretation.
Knowing that Interprefy can also support us at in-person events as well as online, provide SRT files for on-demand watching and even live captions and translated captions makes the whole process of complying with the bill easier" Gretchen adds.
The Outcome
BDO Canada has found in Interprefy a partner to support them in their adaptation to Bill 96.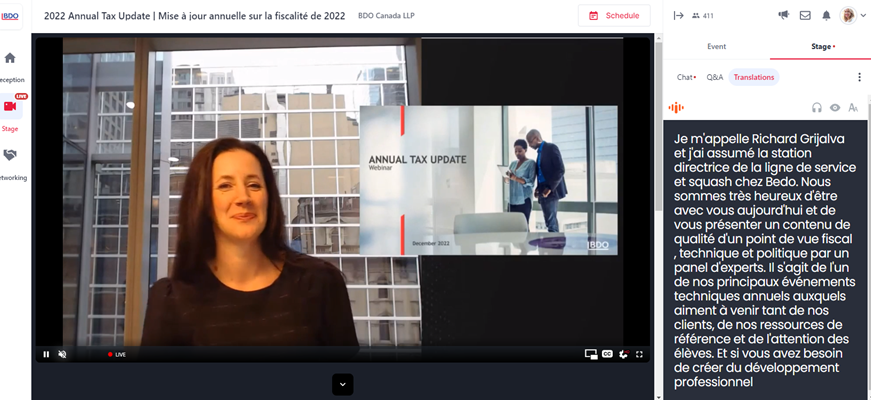 Interprefy cannot only provide the technology that adapts to their many different events' needs but also with:
sourcing the interpreters

providing live captioning
machine-translated captions
recordings
subtitles (SRT files)
project management
We are looking forward to offering interpretation to our in-person attendees through your mobile app. I'm very excited to know that people can download the app and just listen on their phones, says Gretchen
"For the smaller virtual events that are more focused and for an audience in Ontario or Vancouver BC, and where we know there will not be any French-speaking people but we still need to provide the content in French, we will be trying your machine-translated captions", Gretchen adds.