When it comes to services like remote simultaneous interpretation there are a number of common misconceptions.
Whether it's the cost, technology available or anything else, these misconceptions can cause many people to overlook interpreting services altogether.
We're here to clarify how modern interpreting services — such as remote simultaneous interpretation — can help event managers to improve user experience and meet business objectives when it comes to serving multilingual audiences.
So, what are top five myths regarding interpreting services today?
1. Interpreting is expensive
Well, that depends. Traditional interpreting tends to be costly with several logistical layers, making it prone to problems. For example, renting equipment for one day costs in excess of €15,000. But technology is changing things for the better. Remote simultaneous interpretation offers a more affordable solution. Interprefy estimates that like-for-like interpreting services can be provided for around 50% of what a traditional provider would charge.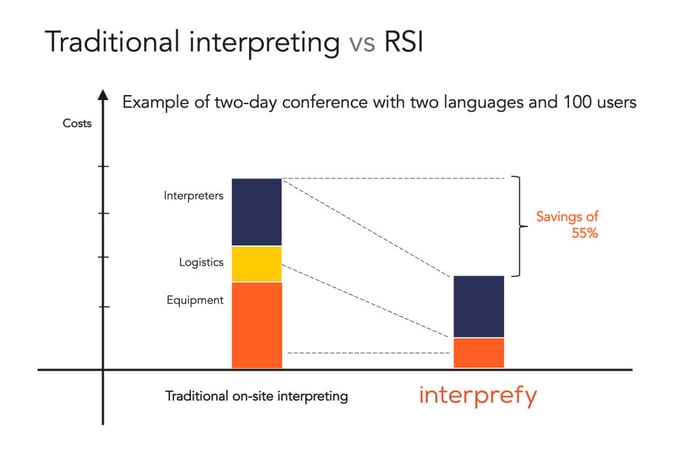 2. Interpreters should be on site
Thanks to advances in cloud technology, this is no longer the case. With remote simultaneous interpretation, so long as the interpreter has undergone training and has the right equipment to hand, he or she can work from anywhere, thereby increasing their productivity — no travel, accommodation and carbon emissions required! It also means that interpreters are not limited by geographic location. Instead of traveling and waiting on-site, they can focus on what they are good at: delivering high-quality interpreting services.
3. Interpreting is used just for big high-profile meetings and events
By significantly reducing costs, remote simultaneous interpretation is a much more affordable service than traditional "SI".
RSI is useful in any scenario where there are people of different cultures, who speak different languages.
Events can range from conferences, seminars, workshops, board meetings, small international meetings, visits with international clients, international customer visits to a factory or online meetings with international partners. Any situation where a language barrier would otherwise be involved can be remedied by remote interpreting services.
4. Interpreters can be replaced by technology
Bill Woods, interpreting technology pioneer, disagrees. He states that "Interpreters will be replaced by interpreters using technology."
Technology-assisted interpreting like Interprefy is increasingly welcomed. To stay competitive in the industry, leading providers are adopting technology that is best suited to their customers. As the need for interpretation services increases, smartphones, tablets, and online dictionaries become of greater use to the public. Machine interpretation is in its earliest stages of development, but there is no telling what the future will bring.
5. "Everybody speaks English nowadays so there is no need for interpretation"
While English is widely spoken, this myth is wrong. According to The U.S. Bureau of Labor Statistics, there will be an estimated talent shortfall for some 83,000 interpreter and translator jobs by the year 2020. The job market is expected to grow significantly over the coming decade.
There are an estimated 400m native English speakers globally. A further billion or so have some understanding of English. But that doesn't mean this latter group is comfortable participating with others in English. This is something they are often too embarrassed to admit. In many fields, cloud based interpretation services are already very popular. Take for instance, the areas of medicine and law. If communication errors exist in either field, complications can be colossal. That's where a skilled medical or court interpreter is necessary. In high risk fields, interpretation services must be offered to prevent confusion and lawsuits.
Technology has opened up many new opportunities for individuals and organizations to get closer with counterparts in other countries and from different cultures.  Its ability to drive down costs and improve the user experience has not gone unnoticed, and we're so excited to be along for the ride.
Interprefy makes it beautifully simply to host events and meetings in multiple languages — anytime, anywhere.  Learn who we've helped, and schedule a demo when you're ready.