If you have an upcoming conference, meeting or event, see how you can reduce its carbon footprint using interpretation technology.
Consumers and businesses are increasingly aware of the need to reduce their carbon emissions in the fight against climate change. If you're in an event agency, this represents an opportunity to stand out from the competition and lead by example. For instance, thinking about ways to reduce your event's carbon footprint using interpretation technology could be one simple thing to consider!
How to measure your event carbon footprint
An event's carbon footprint can be broken down into four broad segments.
These are:
energy requirements for running your event's infrastructure (eg lighting and heating);

food and beverages;

lodging;

travel

.
Of course, some components within each of these categories will be unavoidable. But there are steps you can take to significantly reduce your event's carbon footprint.
The primary activity is to look at where you can avoid emitting at all. This requires looking more closely at your suppliers — do they have an environmentally conscious track-record? For example, can you ensure the power consumed is generated by green energy? Are your food suppliers focused on sustainability and are they sourcing local produce?
Of the four categories mentioned above, travel is by far the biggest culprit when it comes to carbon emissions. For example, a return flight in economy from London – New York City emits 986 kg CO2. There are 56 countries where the average person emits less carbon dioxide in an entire year than that. So be sure to look at how attendees are going to travel to the venue. Do all of them need to be onsite, or could you allow a portion of them to attend by webcast?
Using remote interpretation technology, allowing interpreters to work from anywhere, is a prime example of how to use technology to reduce your event's carbon footprint.
In the age of cloud computing, attendees and suppliers are often able to join your event remotely. We've more about this in a separate blog post.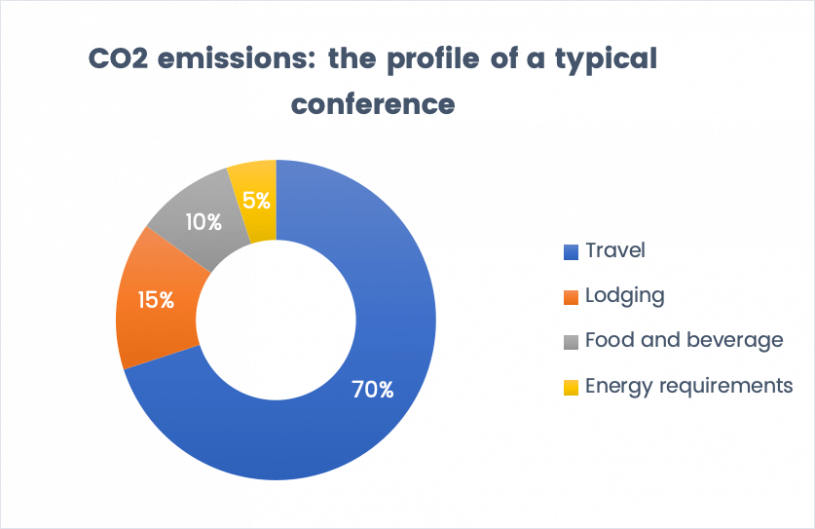 Next, you need to look measurement and evaluation. You'll need to know what the carbon emissions profile of your event is so that you can evaluate your environmental savings. It will also help you to identify where you can make the biggest impact, which is likely to be in within the travel and lodging categories.
If you're willing to go the extra mile, once you have your figures you can look at how to offset your unavoidable carbon emissions. There are numerous schemes through which you can do this, and many governments across the world offer tax incentives for those organisations that offset their events.
Interprefy makes it beautifully simply to host events and meetings in multiple languages — anytime, anywhere. Learn who we've helped, and schedule a demo when you're ready.