Axians is an international network of Information & Communication Technologies service providers and software manufacturers. Axians' specialised consulting, design, integration and service teams develop bespoke digital transformation solutions that contribute to successful business outcomes for their customers.
Overview
The Axians Tech Conference is the biggest virtual company event for all Axians colleagues worldwide. At the event, attendees can get inspired by colleagues from around the world about the latest trends, technologies, and methods that are changing the way they deliver their projects.
With a clear focus on innovation, technology, services and people, Axians practised what they preach at their Axians Tech Conference 2022 by hosting the event in a 3D virtual space with multilingual captioning powered by AI.
The Challenge
Finding an innovative way to gather and engage an international audience
The Axians Tech community has more than 8,000 tech experts from 27 countries who think globally and act locally, so the Tech Conference was the perfect place to share know-how, boost education and connect with the large Axians network. The diverse and distributed audience, as well as the goal of the conference, called for a special event set-up.
We are an international brand and many people are not 100% fluent in English. We wanted to give everyone the opportunity to enjoy, get the best of the content and engage at the Tech event.- Vincent Bazillio, Technologies Marketing Manager at AXIANS.
The Approach
Taking the experience to the next level: a 3D environment with multilingual captions
A team of Axians professionals worked for two months to put together an event where the Axians' Tech community could meet, engage and share their knowledge and ideas in an innovative and engaging way.
They opted for a 3D virtual platform, MootUp, to run their 2-day event. A partner of Interprefy, MootUp allows users to create avatars, move around the virtual venues and interact with each other in a 3D environment. To make the event even more inclusive and engaging, the Axians team offered live captions in English and machine-translated captions in French, Portuguese, Spanish, Dutch, German, and Italian, so that their colleagues from around the world could genuinely engage.
When you promote and run an event only in English many people might be put off because they are not fluent. When you say there are multilingual captions, the mindset changes. - Charles Duquesne, Innovation Manager at Axians
Interprefy language solutions were available alongside the MootUp platform but the Axians team wanted a really immersive experience all in the 3D platform for a superb experience. The Interprefy and MootUp teams then developed for the first time an integration that allowed live captions to be embedded directly into the MootUp interface for this Tech event. Subtitles appeared just above the chat bar in MootUp, providing a fully multilingual 3D virtual experience.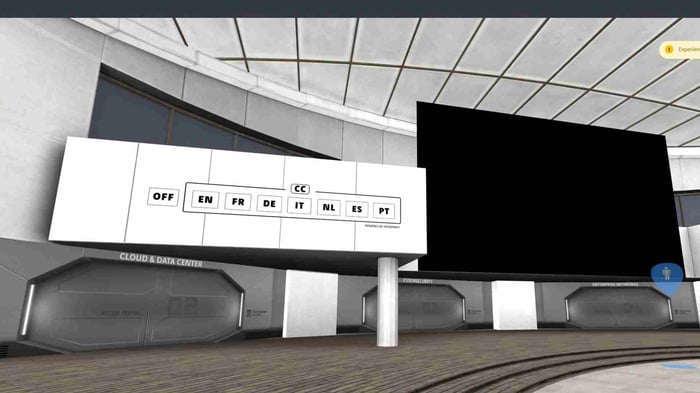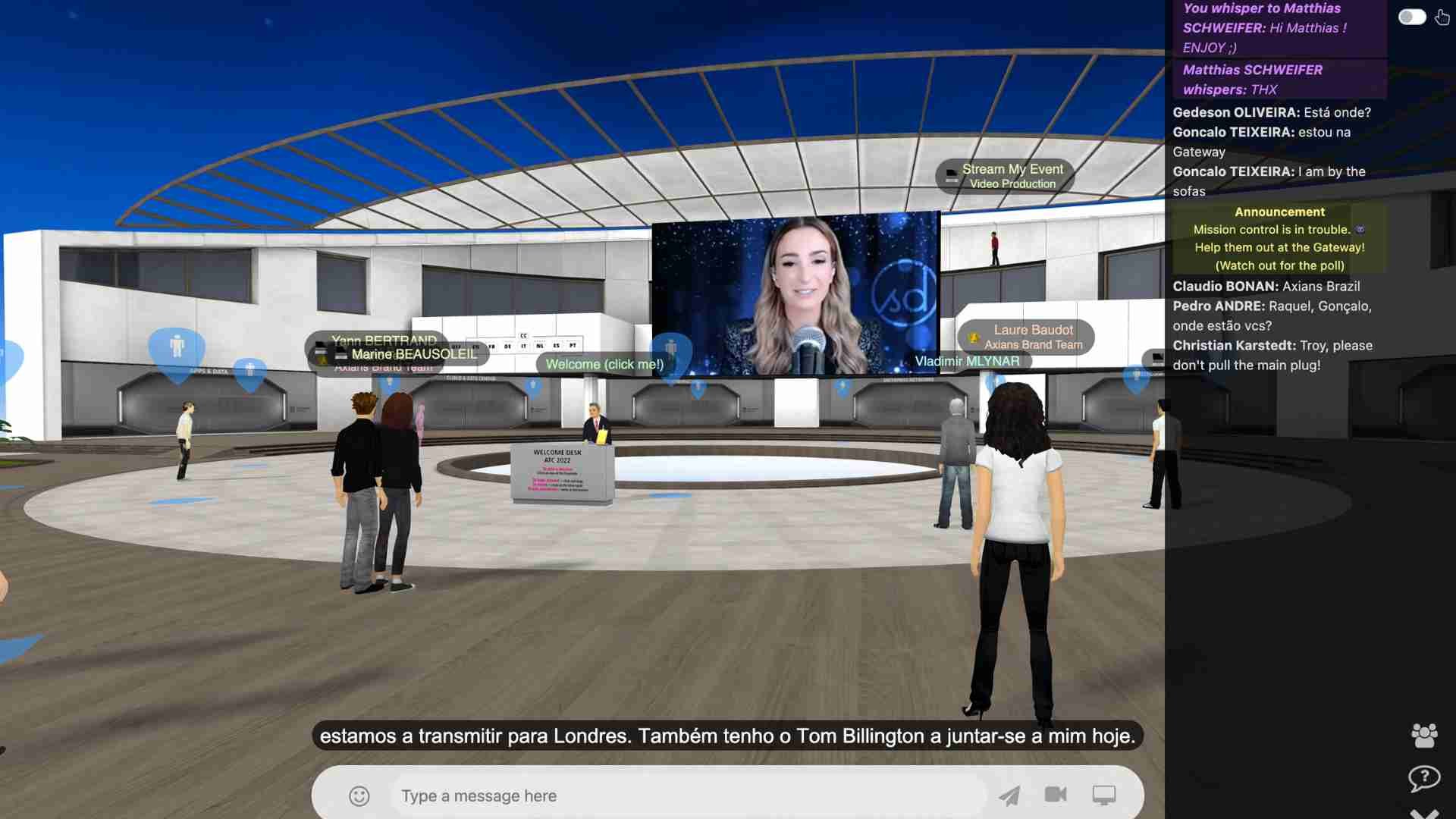 The Outcome
The event consisted of 6 different theatres showcasing technical conferences plus an additional hall with energizing activities. Thousands of Axians could choose their avatars, move around the theatres, explore, interact, learn and follow the content in the language of their choice during this year's Axians Tech Conference.
Interprefy helped us in our goal to ensure people could learn from each other, feel valued and feel comfortable sharing with their peers. We didn't want to take away this opportunity from anyone by using only English," Charles Duquesne.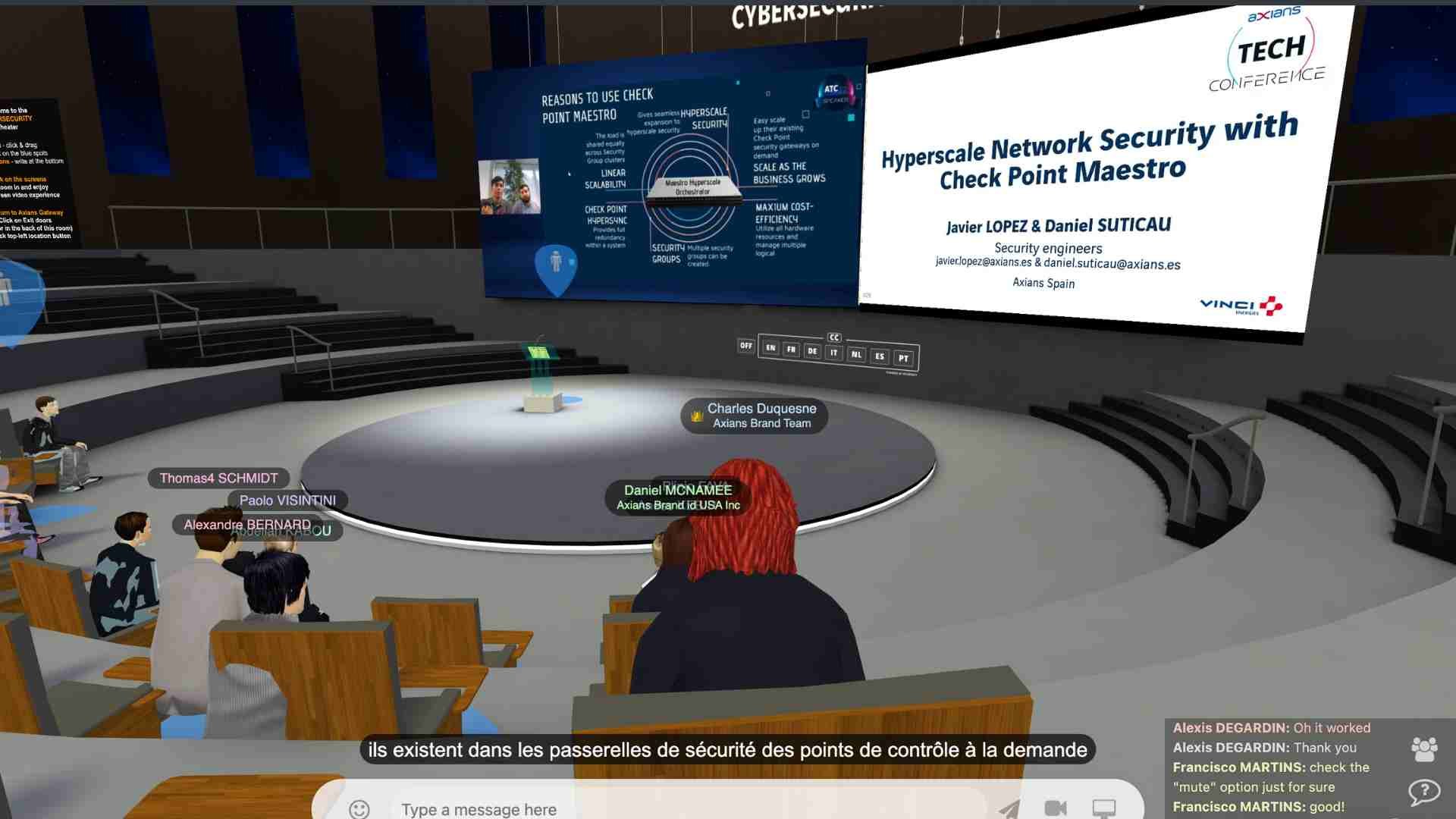 With Interprefy and MootUp Axians were able to execute their global event in a more sustainable and inclusive manner.
"We used multilingual captions because we wanted to support our audience and make sure they had the best possible experience and felt comfortable sharing with the team. - Charles concludes.