Interprefy helps shape the conversation around setting industry standards at AIIC
Over the weekend of 12 – 13 January 2019, Kim Ludvigsen and Greg McEwan represented Interprefy at an event hosted by The International Association of Conference Interpreters entitled 'Remote Interpreting: The next big thing?'
During the event, which took place at the International Maritime Organization's headquarters in London, some 170 interpreters discussed the rise of Distance Interpreting and its impact on the interpreting profession. Through several focused presentations and discussions, they examined where remote simultaneous interpreting could replace events that have until now followed a traditional set up, but also in new areas which are flourishing, such as online meetings, NGO summits and webinars.
Six remote interpreting vendors – among them, Interprefy – were invited to AiiC to demonstrate their platforms and give interpreters a chance to carry out their work in a simulated remote environment.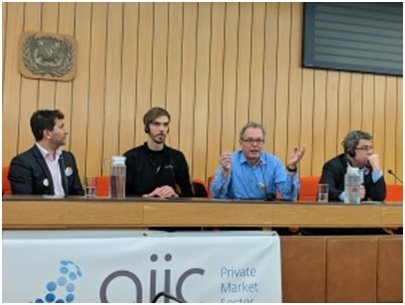 Within the AiiC, there remain several concerns that describe a "healthy scepticism" about remote simultaneous interpreting platforms. Among these are reliability, quality of audio, ease of use and functionalities.
What is clear that, in this emerging and increasingly important industry, there is a lack of clear industry standards. Barriers to entry in the RSI market are low and we have seen a number of new platforms without the know-how, adequate investment and support team in place to provide an adequate solution for conference level interpreters at major events.
The International Association of Conference Interpreters agrees. At the end of the two day-event the industry body's Technical & Health Committee Coordinator, Klaus Ziegler, presented the initial findings of a report based on an investigative test of each RSI platform at the event.
The report highlighted that discrepancies between vendors are significant.
Interprefy urges interpreters and customers alike to check several fundamentals when considering an RSI platform.
These should cover:
Audio quality

Reliability

Tech support team

Market references (case studies)

Video streaming
Interprefy continues to work with industry bodies as well as the academic and business communities to ensure conversations around industry standards remain open to all as remote simultaneous interpreting begins to take a substantial foothold in the market.