Overview
Lush Cosmetics is a retailer headquartered in Poole, Dorset, United Kingdom. Lush's annual summit is a hotbed of discussion, debate, activism and action, from campaigners and grassroots voices across the globe. And it is broadcast live via the Lush Player. Participants are invited to attend panel discussions with topics spanning human rights, animal rights, and the environment. LUSH Summit is a digital event which means participants can join thousands of other like-minded change-makers across the globe.
The Challenge
A global retail event with multiple languages
LUSH is a cosmetics retailer that is known for its authentic products, clean branding, and ethical and environmentally conscious approach. It was important to maintain those messages across its event, held in London for 1,800 people and broadcast globally to viewers online.
The Interprefy team worked with its partner, Interprenet, to source 16 conference-level interpreters to cover the eight languages required for the summit.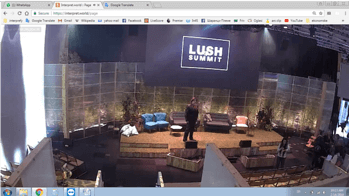 The Approach
Sourcing professional interpreters
Because Lush's event team did not know the precise number of attendees with specific language requirements, it was very hard to determine how to provision interpreting audio devices. With a traditional set-up, radio headsets would have been rented for each and every attendee.
Furthermore, the space in the venue was limited and, with interpreting into eight languages required, Lush's team would have had to rent as many booths which, combined weigh the equivalent of nine-and-a-half lions!
The Outcome
Interprefy's simple, user-friendly solution made for an ideal way to provide interpreting during the two-day event. The interpreters were able to work remotely, saving time and money, but also reducing the event's overall CO2 output by removing the need for the interpreters to fly or stay in hotels.
Because event attendees could listen in to the language of their choice through the Interprefy app, there was no need for radio headsets to be distributed to every seat in the venue. And Lush just paid for the number of actual users.
The space saving proved crucial because the event was fully attended. The 16 interpreters and the eight booths weighing nine-and-a-half lions, that would have been required in a traditional set-up, could all be packed into one laptop. Here's the evidence!
Related Case Studies
Domino's Worldwide Rally Expo make 8 languages available to 9,000 attendees